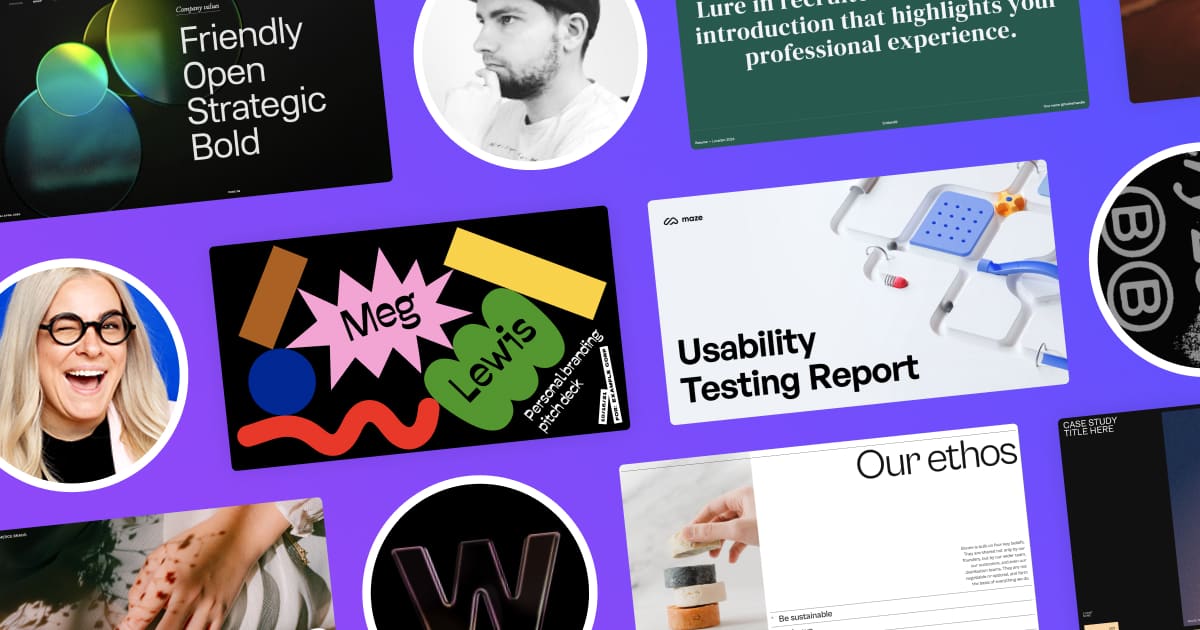 Creator profiles & the future of publishing
Last month, Pitch CEO Christian Reber unveiled our vision to create the first comprehensive platform for presentations. My team is building one of the cornerstones of this vision: a complete ecosystem for publishing and exchanging presentations. Today, we are deploying the first profiles of creators. So I'd like to explain what they're for, highlight our first group of creators, and share the next steps in our plan.
Every day, more than 30 million presentations are created. There is an incredible opportunity to create something useful for the people making these presentations: something that helps them unlock knowledge, facilitate discussion, and inspire. When it's easy to post great ideas, teams around the world stay better informed, make better decisions, and accomplish more.
Pitch breathes new life into presentations, and we want to give people the best platform to accomplish more with their ideas. For the past year, my team has been working on building a comprehensive publishing ecosystem within Pitch so that anyone can share and experience world-class presentation content.
Today, I am delighted to announce two major updates as we pursue this goal. Here are the new features:
We introduce designer profiles. With these new dedicated pages, designers and brands can showcase their best models and presentations and establish an online presence with their own page and username on Pitch. Today we'll be sharing the first ones, and later this year you can make your own.
We are also applications open for our next beta release of presentations. As we roll out Access over the next few months, we are looking for contributors. If you want to participate in the beta version, apply to secure your creator profile on Pitch.
Presentation of the first profiles of creators
To get started, we've assembled a diverse group of 25 subject matter experts on topics like user research, fundraising, sales, and design and turned their knowledge into 33 ready-made templates. Just like the other templates in our gallery, these combine storytelling and great design to help everyone communicate more effectively. Here are some of the new models you can start working with right away:
Meg Lewis – Personal Pitch Deck
As a freelance writer with varied skills (she's a designer and actress, among other talents), Meg Lewis is an expert at communicating her unique abilities to potential clients. In this personal branding pitch deck, she helps you do the same. Explore Meg's Profile.
Bakken & Bæck – Case Study
Showcase success stories with this case study template created by technology-driven design studio Bakken & Bæck. It covers everything you need in an effective case study, with multiple slide layouts to share the background, scope, approach, and impact of your work. Discover the profile of Bakken & Bæck.
Labyrinth – Usability reports
The Maze Rapid Test Platform helps teams test, learn, and act on user information. In this usability test report template, they share their expertise to help you detail key findings, provide recommendations, and outline next steps. Explore Maze's Profile.
Isaac Powell – Press kit
This versatile Isaac Powell deck is perfect for companies looking to put together some insight into their brand in a press kit. It contains room for ethics, products, photography, assets, company information and more, all wrapped up in a sophisticated aesthetic. Explore Isaac's Profile.
WONDERLAND – Concept proposal
This template from design studio WONDERLAND will help you present early design directions for a digital project with space to share your process, research, and design language. Explore the profile of WONDERLAND.
Looking for more inspiration? Browse all the models in our gallery.
What's the next step for publishing presentations
This is just the first step on our journey to make Pitch a thriving destination where everyone can discover content from the best designers and brands. We are now accepting applications for our next group of creators. For our presentation release beta, starting this year, we'll be focusing on storytellers.
The first participants will get a first glimpse of the publishing and community features, and will have the chance to play a founding role in the design of the product.
Do you have a great story to share? Apply to secure your creator profile on Pitch.
We are particularly interested in presentations covering topics relevant to growing teams, such as fundraising, hiring, marketing, business development, and design.
From the start, we've been inspired by what people have created with Pitch and how they push the boundaries of what presentations can do. We look forward to giving this same spirit of innovation and creativity the dedicated home it deserves. Throughout the beta, we'll be documenting our journey and building in public. Follow and join the conversation in our community.