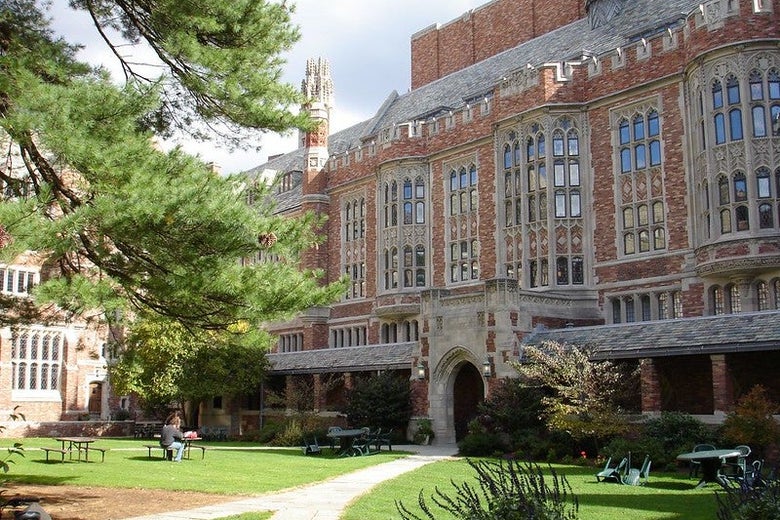 Did Yale Law School Punish A Federalist Society Fellow For His Speech?
[ad_1]
The on-campus free speech debate erupted again on Wednesday with the publication of a Washington Free Beacon article alleging that Yale Law School retaliated against a conservative student's speech. The school pressured the Federalist Society student to apologize for an email deemed racist by several classmates, according to Aaron Sibarium of Free Beacon. History has drawn widespread contempt from the right: Senator Tom Cotton describe Yale's alleged conduct as "insanity," a sentiment shared by critical colleagues contemporary Higher Education in the USA.
This answer, on its own, should illustrate the folly of Yale's actions in this matter. Even the slightest appearance of retaliation against conservative students for protected speech only reinforces the victim mentality that the Federalist Society cultivates among its members. It supplies water to the grievance-industrial complex that drives the conservative legal movement. And that gives the right to portray educational institutions as indoctrination factories that instill awakened group thinking in students. What happened here is inherently wrong. But this is especially reckless in the context of our campus culture wars, in which every perceived affront to a member of the Federalist Society can be seen as evidence of a vast plot to suppress conservative views.
The YLS controversy began when a sophomore invited his classmates to a "Constitution Day Bash". This student, whose name has been withheld by the Free Beacon, is a member of both the Native American Law Students Association and the Federalist Society. His email explained that the party, co-hosted by the Federalist Society, would be held at the "NALSA Trap House". It would include "American themed snacks" including, but not limited to, "Popeye's Chicken".
This email prompted up to nine students to file complaints with the Office of Student Affairs. Associate Dean Ellen Cosgrove and Director of Diversity Yaseen Eldik then called the student into their office to discuss the matter. These administrators said the language of the email had racist overtones and advised him to apologize; they also claimed that "the association of the email with FedSoc was very triggering." (The student recorded these conversations and Free Beacon posted the audio.) During their conversations with the student, Cosgrove and Eldik arguably hinted that the student would face professional consequences if he did. he didn't apologize. For example, Eldick told the student, "The university has changed its approach to a lot of these issues. And you are a law student, and there is a bar [exam] you have to take, and we think it's important to really give you a 360 view.
Sibarium interpreted this language as a veiled threat, as potential lawyers must undergo a personality and fitness investigation to join the bar. According to Sibarium, Eldick hinted that YLS might tell the bar that the student doesn't have the character to become a lawyer unless he apologizes. There is another possible interpretation, however: anyone may file complaints during the character and fitness investigation, so Eldick could have warned the student that a disgruntled classmate might be trying to derail his career by reporting this incident. Whatever Eldick wanted to say at the time, he made it clear a month later that "we were never going to put our letterhead and write anything at the bar about you."
When law schools treat their students like children, they invite nothing but pain.
Social media flattened this story into a simple narrative: Liberal bureaucrats punish conservative misconceptions to appease awakened leftists. The truth is more complicated. No aspect of the student's email is overtly racist, but taken together the references to a "trap house" and "Popeye's hen" are, at a minimum, heavy. The email was juvenile and unprofessional. Also, the school's response was not overtly censored. In a statement on Wednesday, YLS spokeswoman Debra Kroszner wrote that "at no time has a disciplinary investigation been opened or disciplinary action taken in this matter," and nothing in the audio contradicts this declaration.
Nevertheless, the intervention of Cosgrove and Eldik was misguided. Calling a student in the Associate Dean's office via email sounds like retaliation against free speech; The same applies to the possibility, intentionally or not, that the email could prevent a future admission to the bar. Dealing with the anger of school administrators may not be a real punishment, but it is certainly a rebuke designed to send a message of disapproval. As a private school, YLS is not bound by the First Amendment; even if it did, these actions might not qualify as unconstitutional retaliation against protected speech. Still, they're serious enough to spark fears that the school will berate a conservative student for an expression disadvantaged by his progressive classmates.
So Yale's decision here was not a good one through the prism of free speech; even if we assume the school's intentions were pure – which is open to debate – its answer was wrong, period. But it's especially troubling in light of the Federalist Society's long-held claims, which are integral to the organization's self-image, that its members are a persecuted minority. The Federalist Society was founded on the premise that law schools are dominated by liberal ideologues who seek to stifle opposing conservative views. It instills in its members what George F. Will, a prominent promoter of the Federalist Society, once called the "coveted status" of victimization. And he regularly hosts events alleging conservative campus rhetoric is in jeopardy.
This feeling of discrimination is objectively ridiculous: the company is today one of the most powerful private associations in the country. Six sitting judges were members of the Federalist Society, as were a large number of lower court judges; about 90 percent of Trump's appeal candidates are affiliated with the organization. Yet the illusion of victimization remains powerful and provides the glue that binds federalist society together. Its members elevate each other to positions of power, forming a tight-knit network that now dominates the federal judiciary. The Free Beacon article will only reinforce this us versus them mentality, providing fodder for Conservative lawyers who insist the Liberals are trying to "shut them up" in the words of Justice Clarence Thomas.
In May, Stanford opened an investigation and suspended the diploma of a progressive law student after members of the Federalist Society complained that he had made fun of them. This punishment goes beyond anything YLS has done here, but one rule of thumb can be drawn from both cases: Law schools should not get involved in disputes between students over the protection of speech. This does not help the speaker, his detractors, or the school itself. Whether the temptation to take the plunge is benign or malignant, formal intervention only makes matters worse for all parties. Law students are adults. When their schools treat them like children, they only invite pain.

[ad_2]