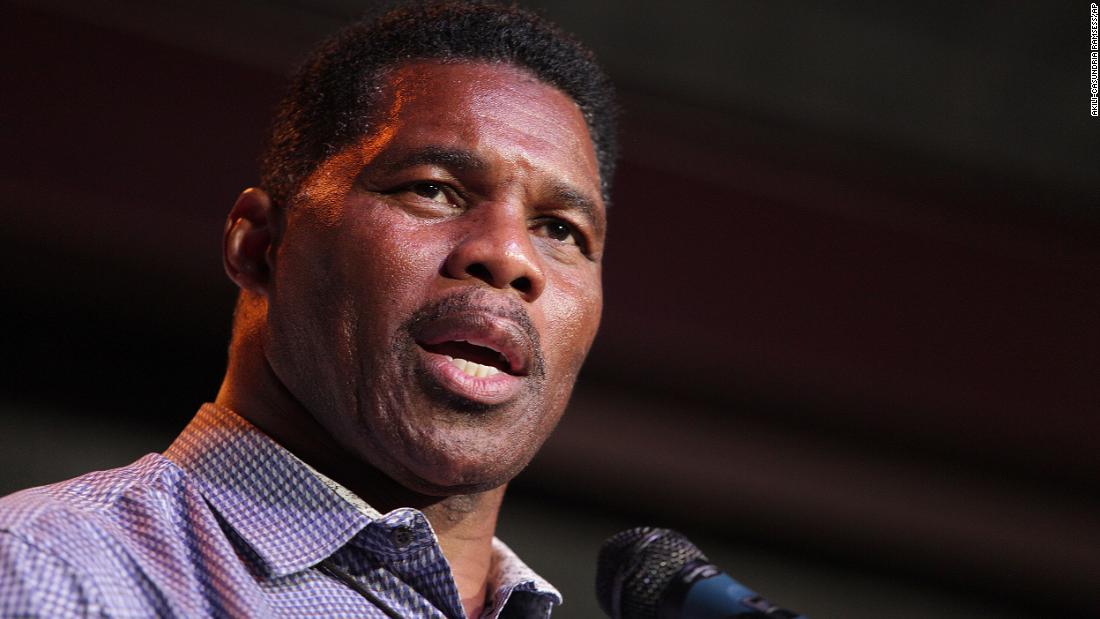 Herschel Walker partnered in 2012 with a branch of an energy company accused by several states of deceptive practices
Walker, the former soccer player turned businessman, and his tech company 34 Technologies teamed up in 2012 with Momentis, a multilevel marketing subsidiary of Just Energy, to sell an online marketing service. Walker's partnership with the subsidiary and the online marketing service they sold did not appear to have been targeted by the states as they investigated the sales practices of parent company Just Energy.
Before Walker and Momentis' partnership went public in 2012, Just Energy, sometimes doing business under its former name U.S. Energy Savings, was repeatedly targeted for enforcement action by attorneys general in New York and Illinois. The parent company's practices allegedly lured potential customers into long-term contacts by falsely telling them they would save them money, allegedly including elderly people and people with language barriers in contracts that they did not understand.
The relationship between Walker and Momentis began in 2012, according to a CNN KFile review of its business record, when Momentis and Walker's company teamed up on a product called M-Marketing Systems. The product, sold through Momentis, was billed as a bundle of online marketing services for customers offering website, social media and email services to businesses. Walker was featured extensively promoting the product on the Momentis company website and at a conference in 2012.
"It's a product that has the power to make a tangible difference in the business community," Walker said in a video hosted on the Momentis website in 2012 and 2013. The video said Walker found the product "so compelling" that "he decided to buy the company that was backing the technology."
Walker spoke at a Momentis convention on M-Marketing Systems in 2012, where Momentis CEO Andy McWilliams described Walker as a "partner" in the company.
"Obviously we want you to know that Herschel isn't just someone we raised on stage," McWilliams said. "He's an associate of Momentis."
Although much of Walker's business record – and the lawsuits and misrepresentations surrounding it – has been widely covered, his ties to Just Energy have not been examined.
Walker's campaign did not respond to CNN's requests for comment.
In 2014, the Massachusetts Attorney General's Office alleged that multi-level marketing practices promoted by Just Energy and Momentis vendors misrepresented or misled customers about Just Energy's products, including that the products would customers to save money, were offered by a government agency. program and that the company has made special efforts to purchase renewable energy from the state.
The State of Massachusetts and Just Energy and Momentis have agreed to commence "termination assurance" action – a legal agreement between the Attorney General's office and another party to resolve the alleged illegal practice without litigation – against Just Energy . Just Energy denied any wrongdoing, but agreed to pay $4,000,000, most of which goes to consumers. Neither Walker nor 34 Technologies have been named alongside Momentis in this action.
The practices of parent company Just Energy also resulted in settlements and payments to an Illinois state watchdog in 2006 and to Ohio state regulators in 2010 and 2016. Just Energy all settled by agreeing to pay hefty fines and restitution and promising to change their sales tactics. Momentis was not involved in any wrongdoing in these matters and was not a party to these settlements.
Just Energy filed for bankruptcy in March 2021 after the Texas energy crisis left millions without power and losses for the company. A spokesperson for Just Energy told CNN it sold all assets of Momentis in March 2014 and has had no relationship with the company since then.
It is unclear what happened to the M-Marketing systems. By 2015, the M-Marketing website was gone, according to archived snapshots online.
34 The technologies also seem to have been short-lived. By 2014, two of Technologies' 34 executives were already working at another multilevel marketing company partnered with Walker called Livio International that sold skincare products.
Walker's current business website, H-Walker Enterprises, never listed the company as Walker-owned according to screenshots reviewed on the Internet Archive's Wayback Machine that date back to 2018. The Facebook and
Twitter
the accounts of 34 Technologies have not been published since 2013.
Former employees of both companies did not return CNN's request to speak to them.
Walker hasn't talked about his tech company often, but in a 2013 podcast, he said the company had the first-ever patented e-commerce video platform.
"I have a tech company – where I'm the first, we have the first-ever patented video that you can e-commerce from video without leaving video," Walker said on a 2013 podcast. And it's coming out very soon. It's called InSay."