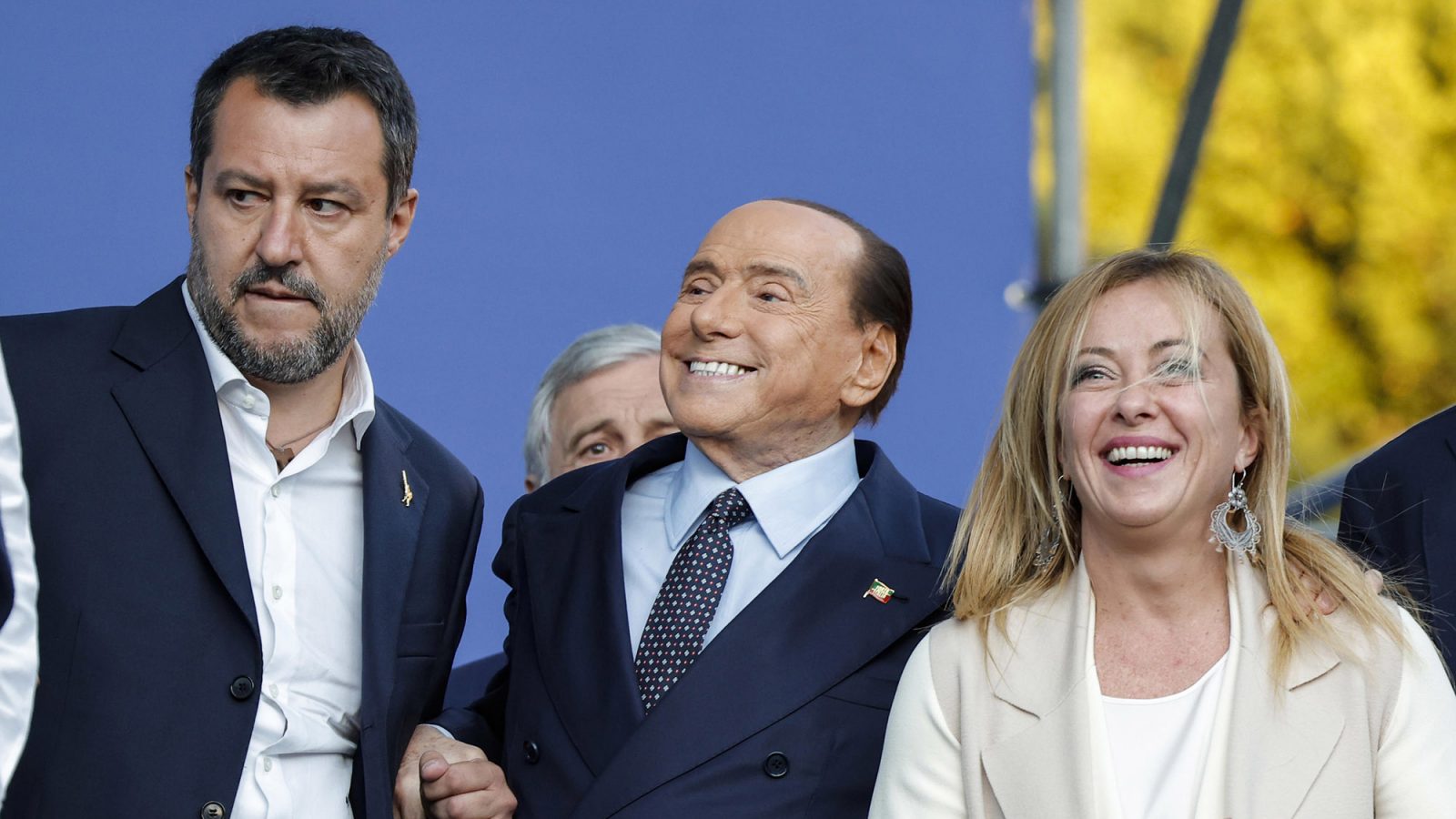 How Fascism Returned to Italy
Listen to this story
A century after Benito Mussolini's blackshirt fascists marched on Rome to take control of Italy, the far right is poised to democratically reclaim power in the country.
Giorgia Meloni, 45, from Rome and co-founder of the 'post-fascist' Brothers of Italy party – which has openly praised Il Duce while demonizing immigrants and gay people – is set to become the first female Premier minister in Italian history.
Recent polls predict that the Brothers of Italy (Fratelli d'Italia), successor to the party founded in 1946 by former supporters of Mussolini, will win Sunday's national elections with 25.1% of the vote, the highest of all parties in the country and more than enough to form a ruling right-wing coalition within the framework of the country's parliamentary democracy.
It's a meteoric rise for Meloni and Brothers of Italy, which won just 4% of the vote in national elections four years ago. And with the energy and economic crises precipitated by the war in Ukraine looming, it could signal the return of what could be dark days for Europe and for democracy.
As Italians prepare to vote on September 25, Silvio Berlusconi defends Putin's invasion of Ukraine, Matteo Salvini does his anti-immigrant thing, and 'post-fascist' Giorgia Meloni speaks like the men she most admired: Trump, Bannon and Orban. Future problems.

—Alan Friedman (@alanfriedmanit) September 23, 2022
Piazza del Popolo in Rome now, the far right of Giorgia Meloni towards a landslide victory in Sunday's elections. The globalist left in Italy is dead. pic.twitter.com/h2iZR9Temg

— RadioGenova (@RadioGenova) September 22, 2022
A self-described "Christian mother" born in a working-class neighborhood, Meloni joined the youth wing of the nationalist Italian Social Movement, the post-fascist party founded in 1946, when she was 15.
In a 1996 interview, she sadly praised the dictator who ruled Italy for 20 years until his ousting in World War II. "Everything he did, he did for Italy," she said. "There hasn't been another politician like him in the past 50 years."
Ten years later, she won a seat in parliament and became Italy's youngest minister in 2008 when then-prime minister Silvio Berlusconi appointed her youth minister.
His main challenger in Sunday's election is Enrico Letta, an academic who was prime minister for less than a year between April 2013 and February 2014. (There have been 30 prime ministers since World War II; twelve have served less than two years.)
Letta's centre-left Democratic Party won 23% of the vote, just behind Meloni's Brothers of Italy, but rejected the idea of ​​a coalition with the populist Five Star movement.
Last summer, this party boycotted a parliamentary vote of confidence which, in turn, led to the collapse of the government led by former Prime Minister Mario Draghi, the former president of the European Central Bank. Despite plaudits from The Economist for overseeing Europe's "most improved" country, Draghi quit, leading to Sunday's election.
According to a Quorum/YouTrend estimate, a right-wing coalition between Meloni's Brothers of Italy, Matteo Salvini's far-right League party and Berlusconi's Forza Italia will win more than 45% of the national vote.
"So many businesses and families are going bankrupt," Pino de Stasio, owner of an espresso bar in downtown Naples, told the BBC. "That's why, unfortunately, people are turning to the [political] right. Because they haven't been in government yet to disappoint us.
Observers say two main factors propelled Meloni to the top of power: anti-immigrant sentiment sparked by a wave of migrants fleeing to Italy – many of them from neighboring Libya, which has endured a decade of unrest since his ousting of longtime dictator Muammar Gaddafi – and a series of missteps by Salvini's League.
Using a sophisticated social media operation to spread misinformation and stoke anti-immigrant panic — and lure xenophobic voters with a vow to deport 500,000 immigrants if elected — Salvini managed to win 18% of the vote in the 2018 elections to become the main conservative party in the country. But after forming a coalition with Five Star Movement and becoming deputy prime minister, Salvini miscalculated.
He stepped down from the coalition government in 2019, hoping to trigger new elections that would see him elected prime minister. Instead, Five Star Movement struck a deal with the centre-left Democratic Party – and Salvini and the League were left out.
That failure in turn created an opportunity for Meloni among conservative voters looking for an alternative.
"His party's rise is clearly fueled by former voters from other right-wing parties," Paolo Natale, a professor of political science at Milan State University, wrote in Italian newspaper Gli Stati Generali.
Italian voters also seem tired of the constant unrest and ready for an alternative. Part of Meloni's appeal is that she and her party are just new, Nathalie Tocci, director of the Rome-based think tank the Institute of International Affairs, told The Associated Press.
"So many businesses and families are going bankrupt," Pino de Stasio, owner of an espresso bar in downtown Naples, told the BBC. "That's why, unfortunately, people are turning to the [political] right. Because they haven't been in government yet to disappoint us.
Meloni has also demonstrated political acumen. She widened her appeal to political moderates with a familiar formula: she promised to cut taxes – a critical issue in Italy, where the average tax rate is 30%, compared to an average of 24.6% in the others western democracies – and to review the European Union. treated.
She also tried to soften her old hard-right tone. As Deutsche Welle reported, Meloni issued internal memos to party members, asking them to end the use of the so-called "Roman salute," the Nazi-affiliated stiff gesture popular with team supporters. traditionally conservative football clubs, and refrain from demonstrating. references to fascism. She also appealed abroad, posting a trilingual message to the international press promising that Italy would not become authoritarian if it took power.
However, other far-right core values ​​remain, including a murky approach to Russia and Vladimir Putin that could spell trouble for a hitherto enduring coalition backing Ukraine in the ongoing war that is driving up odds. energy and food prices in Italy and around the world. .
Sunday is election day for Italy. And a right-wing government led by Giorgia Meloni should lead the country. With Salvini and Berlusconi.

Meloni now has a pro-Ukrainian stance. But wait: in 2014 she supported the annexation of Crimea and in 2018 she praised Russian democracy. pic.twitter.com/D0gPBv7yH2

—David Carretta (@davcarretta) September 23, 2022
As well as demonizing LGBT people, immigrants and "woke ideology", Meloni continues to invoke Italy's darkest times. Brothers from Italy logo is the tricolor of the Italian flag stylized in the shape of a flame – the same logo used by the Italian Social Movement, the post-fascist party, from 1946 until its dissolution in 1995.
"What you might call a post-fascist strategy is unfolding.

Meloni can enlighten the public by making fascist claims while claiming that fascism no longer exists. Importantly, those who warn that #fascism makes a comeback are ridiculed as irrational" https://t.co/lLpSGpYlzn 🇮🇹

— B/B (@berlinbarbarism) September 23, 2022
Meloni said the Fratelli d'Italia had moved away from fascism, and many international media outlets highlighted his "moderation". As recently as 2020, however, she praised the founder of Fratelli's neo-fascist predecessor party, the MSI, who served as a minister under Mussolini.

— Populism Updates (@PopulismUpdates) September 23, 2022
There are fears that if she takes control of the government, even for the classic short-term tenure enjoyed by most prime ministers, lasting damage could result.
"Italian democracy will outlive Meloni," wrote John Foot, research director at the University of Bristol. The Guardian in August. "And Italy will remain in the EU and in the euro, but it could be badly damaged, especially if the plans to modify Italy's beautiful anti-fascist constitution are implemented."
.@GiorgiaMeloniThe latest campaign message from is a nod/nod to his nostalgic fascist base: "After our victory you can raise your head and finally verbalize what you have always thought/believed in"
This is how you normalize fascism, making it socially acceptable.pic.twitter.com/3ZQLabNflP

— Rula Jebreal (@rulajebreal) September 20, 2022
---