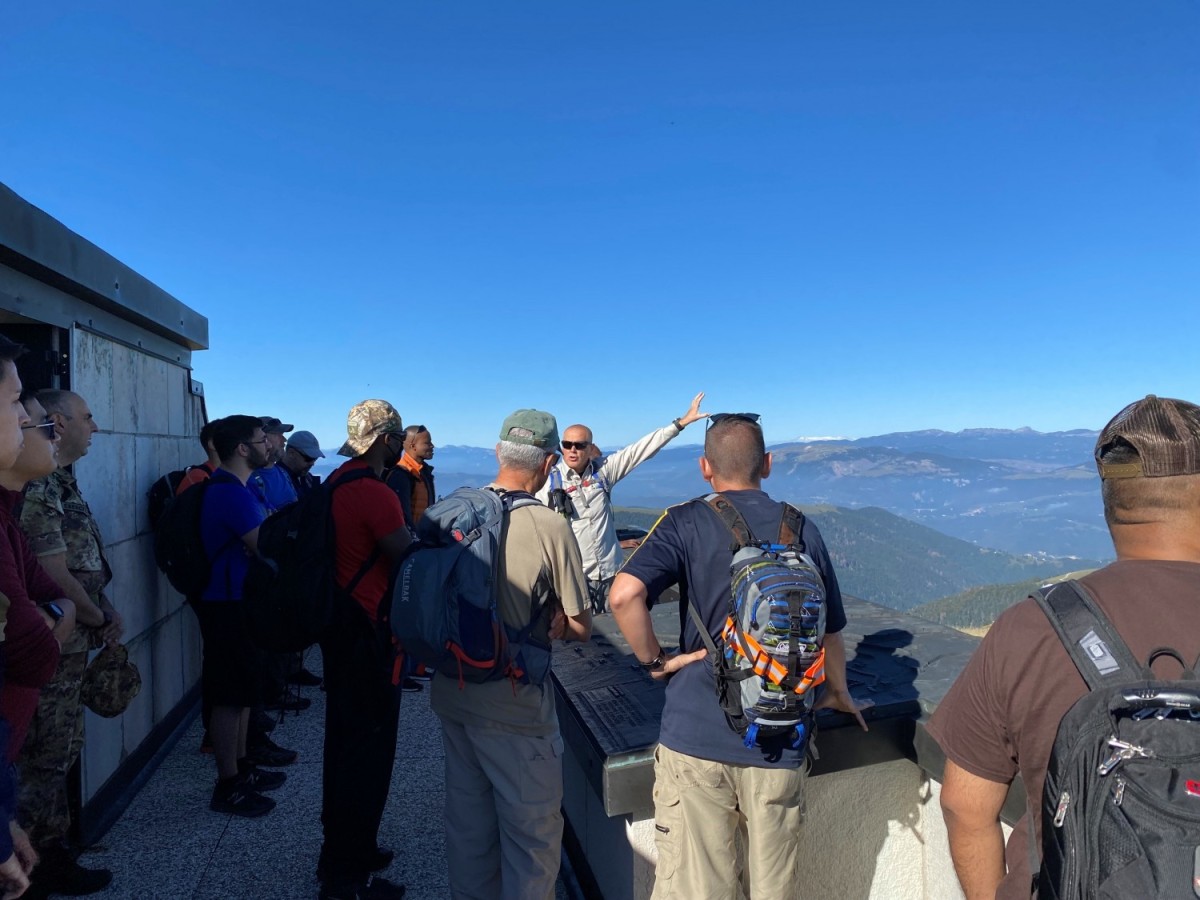 Italian campaign of the First World War, the battles of the Alpine front revisited | Item
[ad_1]
VICENCE, Italy – Soldiers and staff from the US Army's Task Force Southern Europe-Africa G4 leadership recently participated in a combat staff tour and educational forum designed to foster professional development of leaders of the United States Army and increase their knowledge of Italy and the Italian front during WWI. .
The two-day combat personnel hike, which took place on September 24-25, began with an educational forum at the Hall of Heroes in Caserma Ederle, Vicenza, and ended with a hike on and around the memorial military and the summit of Monte Grappa. .
U.S. Army Col. Scott P. Noon, SETAF-AF, Deputy Chief of Staff, G4, Director of Logistics, hosted the two-day event to support building staff cohesion and educating G4 soldiers and civilians on the Italian campaign in the First World War, and on the lessons learned from the battles of the Italian army at Monte Grappa.
"The First World War provided us with many lessons learned at the tactical and operational levels," Noon said. "Specific to the struggle on the Italo-Alpine front, the Italian forces were confronted with logistical challenges that still appear in our army today. In addition to battling the high altitude and harsh winter conditions of the Italian Alps, Italian forces addressed issues of mission command, communications, integration and logistics.
To underline the strategic importance of the Monte Grappa massif during World War I, the G4 used the expertise of the senior Italian officer in the US Army garrison, Colonel Michele Biasiutti, retired Italian brigadier. General Edoardo Maggian and Italian author and military historian Professor Paolo Pozzato.
During the educational forum, Pozzato shared a personal collection of illustrated narratives presenting the experiences of the forces on the Italian front and provided a socio-historical perspective contextualizing the geopolitical climate of Italy before the war.
Likewise, during the hike, Biasiutti and Maggian provided an overview of Italy's military strategy, putting in context the key strategic and operational aspects of the war and the strategic importance of the Grappa massif as a line. final defense for Italy.
The three host nation experts discussed the factors of homeland defense and how a series of battles on the Italian-Austrian border would ultimately lead to Italy's redemptive victory over German and Austro-Hungarian forces.
"Facing the current COVID environment, this staff race had been in the works for a year," Noon said. "A lot of hard work and tactical patience went into planning and executing this hike. "
In addition to her experience as a senior personnel route planner, U.S. Army 1st Lt. Moriah Edwards, G4 logistics planning officer, said she enjoys her interactions with leaders. Italian military and academics.
"Planning this staff hike has been a great learning experience and quite a unique opportunity for me," she said. "I was honored to have gained the confidence and direct access to plan this event alongside Colonel Biasiutti and his Director General, Lieutenant-Colonel Tesseri Tomasso. This staff walk was a huge success due to the invaluable contributions of our host country experts and the interoperability between American and Italian planners. "
To learn more about the US Army Southern European Task Force – Africa: https://www.setaf-africa.army.mil/
Follow SETAF – AF on Facebook: https://www.facebook.com/SETAFAfrica
[ad_2]