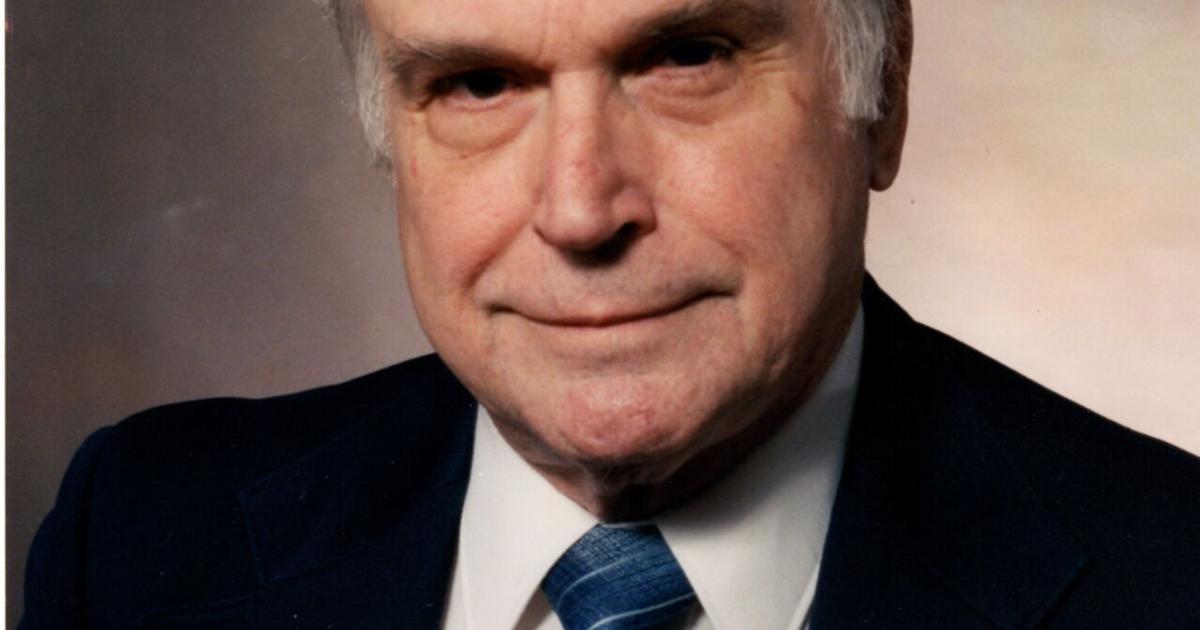 Jacques Marchand | Obituaries | news-gazette.com
CHAMPAIGN – James W. Marchand, 95, of Champaign died of Lewy body dementia at his home on Friday, December 31, 2021.
He was predeceased by his wife, Jeanne, and his brother, Frank Marchand.
He is survived by his sister, Jestine Morris; five daughters, Susan Slay, Denise Pakala, Jeannette Marchand, Jeanne Marchand and Melanie Manner; two sons-in-law, Jim Pakala and Rick Manner; two grandsons, Adrian Slay and Kent Pakala; and four great-grandchildren, Macie, Drake, Lorelei and Dillon Slay.
Services will be rescheduled to June 11 due to COVID-19. A private burial was held on January 7.
James was born on Veteran's Day, November 11, 1926, in Birmingham, Ala. When he was 2 years old, his father, Frank Wesley Marchand Sr., died of tuberculosis shortly before the stock market crash of 1929. His mother, Dessa (Osbourne) Marchand, quickly moved her family of three children back to her hometown of Lewisburg, Tennessee, to be closer to his family.
Growing up in Lewisburg during the Great Depression, money was very limited. Then, in high school, World War II began. His older brother, Frank Wesley Marchand Jr., soon joined the military after Pearl Harbor. He was trained to be a reconnaissance pilot in the Pacific theater. James had to wait to graduate from high school and enlisted at age 17 in the Army Air Corps. He was originally trained to be a remote turret mechanic gunner. However, by then the war was over. Due to a high score on the military aptitude test, he was chosen to learn French from tapes and teach it to his fellow soldiers on the way to Europe. When he arrived, peace had been declared two weeks earlier and he had been reassigned as a translator/interpreter. He quickly discovers that he has a natural talent for languages ​​and is fluent in French. He was also commissioned to translate German and was sent to the British Interpreter's School. Again, he was able to learn the language very quickly and quickly became fluent. After his tour, he returned to Tennessee.
Jobs were hard to find and he was out of work. While he was playing pool, another pool player told him he was a smart kid and asked him why he wasn't in college. He replied that he had no money for college. This man told her about the new GI Bill, dramatically changing her life. Within two weeks, Jim was enrolled at TPI (Tennessee Polytechnic Institute) and had met Jeanne Johnson. During the first five days on campus in September 1947, they became "stables". They were married the following summer on July 31, 1948. They were stable for almost 69 years until his death on July 25, 2016.
Jim has had many mentors in his career. Mr. and Mrs. McGee of TPI recognized his language skills and encouraged him to focus on the humanities and transfer to Vanderbilt University. Dr. Ten Hoor from Vanderbilt offered him a job teaching German. It was the first of many languages ​​he taught during his long career. He got his doctorate. at the University of Michigan. Dr. Nordmeier was instrumental in securing an elite assistant professorship at Washington University in St. Louis. In total, he taught at 12 universities while becoming a full professor, including the University of Washington, Harvard, University of Munich, University of California at Berkeley, Vanderbilt, Cornell, and the University of Illinois.
At the University of Washington, he received a Guggenheim Fellowship at the age of 30. This allowed him to see and study medieval manuscripts in Wolfenbüttel, thus launching his career as an expert in Gothic manuscripts. He also taught the 1958 spring semester at the University of Munich.
When he arrived at the University of Illinois in 1969, he was a professor of German and linguistics. He was also soon inducted into the Center for Advanced Study. He then became an assistant professor in the Department of Comparative Literature.
In 1975 he took a one-year sabbatical in Sweden to study runestones, stave churches and the Viking Age. He fell in love with Sweden, the language and the culture. Immersing himself again in a new language, he was fluent within three months and was often mistaken for a native. In the years to come, he managed two more visits and often wished that his health would allow him to do more.
His great regret was that digital photography and GPS mapping came along when he was too old to re-map all the runestones in Scandinavia. Jim was best known as a leading authority on Gothic and was generally recognized as "the most original person in the study of Gothic in the (mid-twentieth century)." However, he had a very wide range of interests. A small sampling of the subjects he has taught over the years gives an idea of ​​the breadth of his knowledge: German, French, Greek, Latin, Old Norse, Old English and many other languages; Germanic and Celtic literatures; medieval music; the Western texts of Matthew; mechanical aids for teaching; mathematical models for linguists; computer programming; and the Arthurian romance.
He had over 400 articles on linguistics and philology published in seven languages. Some of these works have been translated into German, French, Italian, Russian and Japanese.
One of his greatest claims to fame is the development of a technique for restoring palimpsests (medieval manuscripts that have been crushed). He was dubbed "the palimpsest man" in an article about his work in the international Time magazine in 1991. He created a method of using ultraviolet imagery with computer scanning techniques to isolate Gothic script of the Latin crush. This made it possible to rediscover and study the Gothic. His research greatly expanded the store of the Gothic language.
In his personal life, he was well known as a billiards enthusiast, both at Cornell and UI. His nickname at the UI Student Union Pool Hall, his home away from home, was The Old Man. Many students remember learning billiards with him and listening to his high-profile stories. They also picked up appropriate "trash talk" from him and his fellow pool players, like "I'll beat you like a tight drum." Various people went to the UI just to play against the old man. Several students have written to and about him, calling him a mentor to them or an essential figure in their user interface experiments.
He was influenced by many people in his life and had a great influence on many other people – students, colleagues and friends. He lived his life according to this philosophy, which he asked to put on his tombstone: "The love of knowledge and the desire for God".
Memorial donations may be made to the University of Illinois Center for Advanced Study.