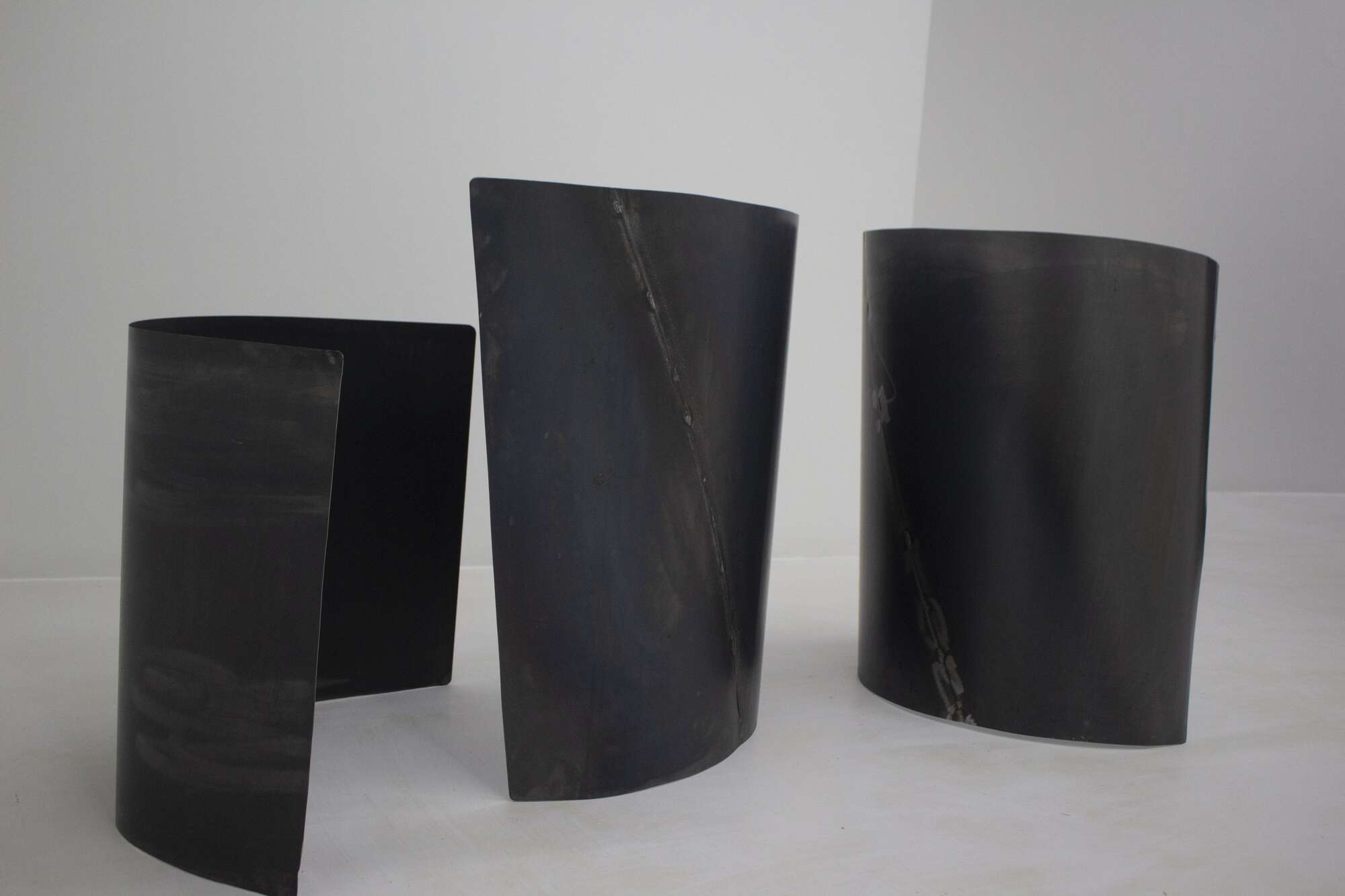 Karmali returns with a refreshing new aesthetic language
Arts

Karmali returns with a refreshing new aesthetic language
Friday, September 09, 2022

When Tahir Karmali left for the United States in 2014, many knew that this Kenyan-Indian artist was on a trajectory that transcended our wildest dreams.
What we hadn't counted on was Tahir's return and bringing with him a whole new aesthetic language, a whole "different" medium of communication that might not be as easy to master as, say, Sheng or Somali or a Slavic derivation.
Yet his welcome solo exhibition which opened last Wednesday evening at the Circle Art Gallery in Nairobi and titled 'Bound Between Cliffs' was one of the most refreshing and radical exhibitions we have seen in some time.
Not that this is easy to understand, for that is not Karmali's purpose, let alone his purpose, as one might surmise from the title of a series of his works collectively called "A Measure of My Self Pressed into Soil". The title suggests that his art is fundamentally self-reflective. But then, much more happens.
Karmali was in photography before leaving Kenya, so it's no surprise that he earned a master's degree in digital photography from the School of the Visual Arts in New York in 2015. But again, before leaving the Kenya, you could already see how edgy and experimental he was artistic.
But now, we see that the experiments have turned into a surprising range of multimedia creations. For example, a work like 'Between Bones' could be described as a tapestry. But then, who has ever seen a wall hanging made of a mixture of brass, steel, silk, rubber, cotton and butane paint?
An equally unique concoction is 'Sharp Edges' which is also made of brass, steel, silk, cotton and rubber (only this time it's white). But Karmali also added some "oxidized metal from a police gun" as well as several screws and a touch of red earth.
But then he takes another tangent when he works with charcoal and graphite to draw 'charcoal studies' that I still don't understand but appreciate for their exposure of the artist working new ideas as a deployment process.
There are so many elements to Karmali's show that I find appealing. For example, his breathtaking use of a myriad of elements, transforming them, not from scrap into gems or 'trash into treasure', as so many other artists have almost trivialized.
He just saw new possibilities in the way he mixed things like magnets, mabati (iron sheets) and screws with oxidized metal from someone's gun, indigo earth, silk and cotton to create another work like "Bound Earth".
Karmali even included a series of papercraft projects that he produced by hand. He somehow redesigned photocopies of old immigration forms that probably once reflected struggles he might have had with American immigration. But he transformed these unfortunate shapes into delicate textures and works of abstract art.
There are several series of intriguing works in Karmali's first solo exhibition since returning to Kenya. One includes another series of textiles he created from silk and white rubber. These are also created by somehow mixing together brass, steel, screws, cotton, and oxidized metal.
But in a piece like 'Weathered Cliffs' he manages to create another form that looks brighter and totally different from a piece made with similar materials like 'Between Bones'.
His series on "Paradise" is particularly appealing in his monochromatic approach to screen printing on something he calls "dip-dyed organic natural canvas." I'm curious how a canvas can be all of that, but I'll take his word for it.
The other series that gives more clarity to Karmali's creative style is his "Grid Meeting Natural Form". There is symmetry, in support of his "archival silkscreens on paper" framed miniatures. Altogether, it creates an image that could mean anything, but at best it's beautiful.
Much has been said about Karmali's diversity of tastes, his fascination with the contrasts between the lightweight beauty of silk that appears so often in his show and the type of tough love art he achieves with sheet metal. iron or mild steel.
But the beauty of Karmali's art is that he mixes these various elements in singular works that lead to an appreciation of the new vocabulary of his creation.
There's only one striking element in Karmali's exhibit that I really couldn't fathom. It was his sound installation, found at the back of the show. The sound is eerie as you enter a narrowing black iron sheet tunnel. So what is its meaning?
"It's a symbol of death", says simply Karmali BDLife. And that's it.
[email protected]