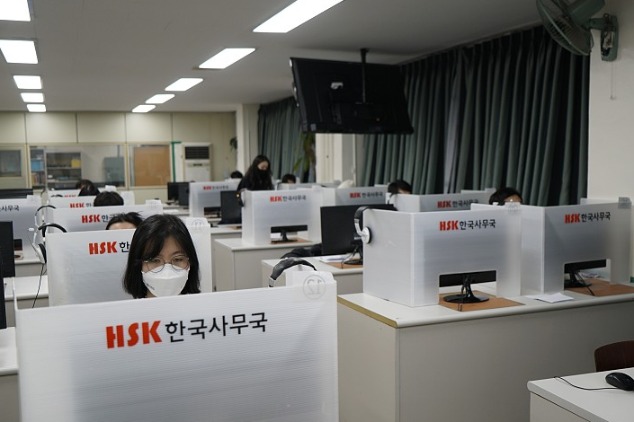 Launch of an advanced Chinese test for non-native speakers
The Hanyu Shuiping Kaoshi, or HSK, a Chinese language proficiency test, will officially hold its first test for high-level non-native speakers on Nov. 26, said the Center for Language Education and Cooperation, the test's developer.
The new test criteria, based on the Chinese Proficiency Grading Standards for International Chinese Language Teaching adopted last year, ranks advanced candidates into three levels, from seven to nine.
The new test includes 98 questions assessing students' language skills in the categories of listening, speaking, reading, writing and translating.
It is designed for international students pursuing postgraduate studies, students majoring in Chinese language studies outside China, and non-native speakers using Chinese for academic research and economic, cultural, and scientific communication.
To achieve HSK Level 7, candidates must have good Chinese listening, speaking, reading and writing skills and preliminary skills in specialized interpretation and translation, and be able to communicate adequately on relatively broad topics and high level.
The highest HSK level, Level Nine, requires excellent listening, speaking, reading, writing, and specialized Chinese interpretation and translation skills, and candidates must be able to use a variety of skills comprehensively to communicate in Chinese in a standard, fluent and appropriate manner on a wide range of topics in a variety of contexts.
The center said HSK levels one through six would not change at this time, and that the validity, content, vocabulary and form of the test's six levels would remain the same.
A total of 240,000 students from more than 140 countries took part in the HSK tests in the first half of this year, up nearly 10% from the same period last year.
There are 1,302 HSK test centers in 161 countries and over 70% of the centers also offer online testing.
The Ministry of Education said the Chinese language has been integrated into the national education systems of more than 76 countries, and more than 25 million people are learning Chinese outside China.
Lee Jae-young, a South Korean graduate student at Peking University's Yenching Academy, said he started taking the HSK test in middle school and his Chinese language proficiency improved. over the years.
Lee passed the HSK level six test before coming to China for his undergraduate studies in 2016, and he will consider taking the new high-level test to prove his language proficiency, he said, adding that the HSK is the most authoritative Chinese. language proficiency test.