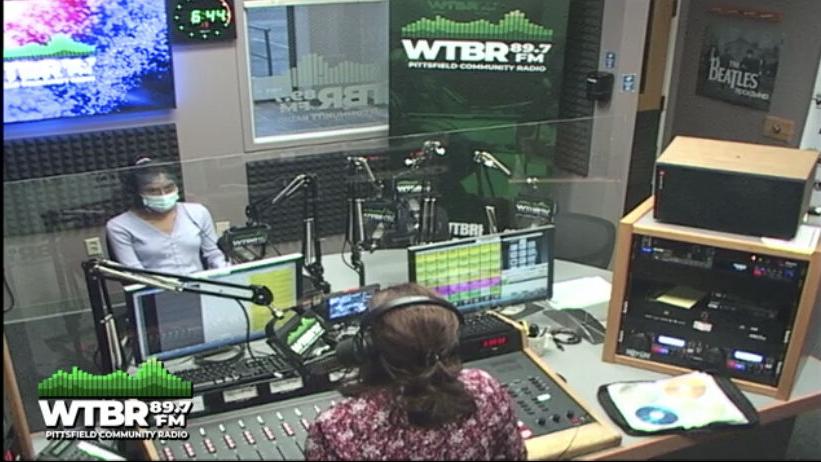 Mundo Latino: Mother-daughter team runs long-running Spanish-language radio show in the Berkshires | Berkshire landscapes
[ad_1]
A mother and daughter from Great Barrington are making waves in the Berkshires – radio waves, that is.
Fridays from 4 p.m. to 6 p.m. and Sundays from 10 a.m. to 11:30 a.m., Berkshirites can hear the styles of Martha Escobar and her daughter, Deisy Escobar, on 89.7 WTBR-FM or 97.7 WBCR-FM . The Spanish-language radio show Mundo Latino: Recordando Tus Raíces has been broadcast for 14 years.
"Our mission is to keep the immigration community informed of all the services Berkshire County has to offer," said Martha Escobar.
On the show, the couple provide information to immigrants and newcomers to the country about English lessons and legal advice while keeping their roots alive by sprinkling with Latin music, including merengue, salsa and bachata. . Martha and Deisy also interview experts in their fields on a number of topics relevant to their listeners.
In the past, the duo have asked doctors at Fairview Hospital about the COVID-19 pandemic and vaccinations; a spokesperson for the Mahaiwe Performing Arts Center on its films in Spanish and Latin events; an ovarian cancer survivor and several others from the Elizabeth Freeman Center and the Berkshire Immigration Center. The Escobars also maintain an ongoing series on Immigrants Making a Difference.
"[In the series] People tell how they came to this country; how they started and what they are doing now. These are inspiring stories of how people in our community have made their dreams come true, "said Martha Escobar.
Martha, from Bogota, Colombia, first came to the United States via Sheffield 21 years ago looking for better job opportunities and a chance to continue her university education. When she left Colombia, she said that the economic situation was very difficult and that she wanted to be able to help her mother financially. When she arrived in the United States, her first job was as a dishwasher.
These days, she is currently working on a psychology degree at Berkshire Community College and aims to become a bilingual therapist in the community while working at the Elizabeth Freeman Center as a bilingual lawyer and counselor.
Her first time on the air came after a friend invited her to his show in 2007. The following year, Mundo Latino was launched. For six years, the program was broadcast only in Spanish. But when 8-year-old Deisy asked her mother if she could read a poem on the air, Martha agreed and Deisy, now 16 and a student at Mount Everett High School, hasn't left since.
Since Martha slipped the mic to share with her daughter, the show has moved to a bilingual format.
"I grew up watching my mom do that. The way she expressed herself in Spanish and how passionate she was, it really inspired me. I wanted to be like her, "Deisy said. "I like working together and growing together. We share the same passions a lot, so it comes quite naturally. I grew up with both cultures: Hispanic and American and it's wonderful to be able to share this with the community. Being able to share this culture in a bilingual way is a huge privilege. I have the best of both worlds, I like to say.
Deisy highlighted volunteering, Latin folk dancing and helping the community among the passions she shares with her mother.
Outside of Mundo Latino and his classes at Mount Everett, Deisy is an intern with the Southern Berkshire Health Coalition at the Railroad Street Youth Project. She is also a member of the Social Justice Club and a board member of Latinas 413. The 16-year-old is also a professor at the Literacy Network of South Berkshire and has two students, one from Colombia and one from El Salvador.
"I am very proud of her," Martha said of her daughter. "I love to see how dedicated she is to helping others. These kids are living what I did when I first came here [to this country], and I tell him to help them as you can.
A recent Mundo Latino program featured a guest who discussed preparing for work. For those coming from another country like Colombia, Martha said there are some differences in the way employers search and interview potential candidates. Their program touched on the importance of being on time, asking questions, wearing proper attire, looking an interviewer in the eye, and knowing the company.
"A lot of our listeners are new here and are starting from scratch. We try to give them as many resources as possible, because the situation is probably very different here than what they are used to, "said Deisy. "Take Colombia – because that's what we compare it to – for example: if they don't contact you in a week or less in Colombia, that means you didn't get the job. Here you can and are encouraged to call. It can take much more than a week to get a response from an employer.
With the show, the Escobars continue to help make connections with culture. Reflecting on her own trip to the United States and becoming a citizen, Martha said it was important that she and her daughter let other members of the Latin community know that they are not alone.
"We have a space where we can make our voices heard. We don't want them to feel isolated or depressed. It is very difficult to start a new life because of the language barrier or the lack of family, but it is possible to make our dreams come true, "she said. "It's not magic. It takes a lot of hard work, but we make sure to let people know that there are leaders and resources available to help.
For those who may have missed Mundo Latino's live programming, their website https://linktr.ee/mundolatino has links to past episodes, podcasts, and even simulcast TV shows.
"I hope those who connect will feel the joy we have for our music and the love we put into the show," Deisy said. "You don't have to be Latin or even speak Spanish to enjoy it. Everyone is welcome.
[ad_2]