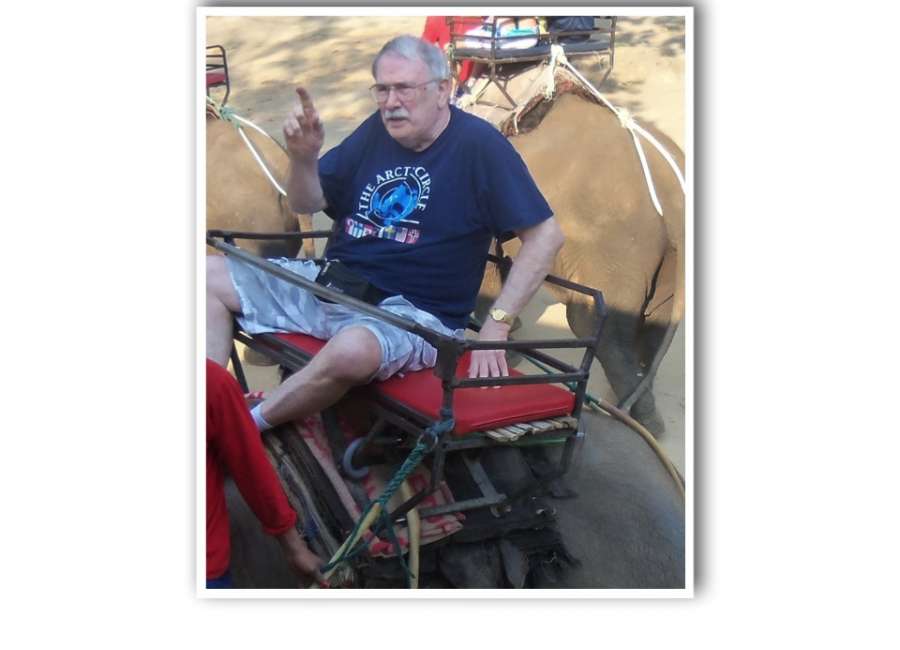 Off the beaten path: Amber Fort in India
Any place you visit after seeing the Taj Mahal will have a hard time measuring up.
Like any tourist in Agra, I stood in front of the Taj Mahal and quickly concluded that what I was seeing would be difficult to describe in my diary. As I waited my turn to walk through the interior of this magnificent structure, I heard someone behind me say "seeing the Taj is like peeking into paradise".
It was my second and I'm sure it was my last visit to the Taj Mahal. In my opinion, attempting to describe the sheer majesty of this place goes far beyond the outer limits of our meager earthly vocabulary. Yet, I knew there were still other sights to see. I should move on. One of them was Amber Fort near Jaipur.
My hotel concierge in Agra had booked a car and driver for my trip to Jaipur and nearby Amber Fort. This "golden triangle" (Delhi, Agra, Jaipur, Delhi) is the busiest tourist route in the history of India.
Some travelers with stronger constitutions than me make this trip in just a few days. It would take me longer. One of the reasons was that I couldn't resist making a few stops along the road between Agra and Jaipur.
My car and driver arrived at my hotel forecourt at 7am on this beautiful Saturday morning. As I rode in the air-conditioned comfort of a late-model car, I witnessed sights I will never forget.
Not the type of tourist attractions that attract millions of people to India every year. No. What I have seen is the heartbreaking level of poverty in the rural areas of India. I saw healthy adult cows sleeping in the morning sun right in the middle of the roadway, so the driver had to slow down and find another way around these animals.
And if that weren't enough, these cattle were flanked on either side of the road by starving young children whose stomachs were distended from lack of food. The sight of this kind of abject poverty shook me deeply and I found myself reflecting on the disparity that sometimes exists between religious beliefs (the sanctity of cows) on the one hand and world hunger on the other.
Then, after about 2.5 hours drive, I arrived at the city of Mehndipur for a visit to one of the most famous temples in Hinduism. Balaji Temple is an important site for followers of Hinduism.
This temple is dedicated to the Hindu deity Hanuman. Unlike similar religious sites, it is located inside the city rather than in the countryside. Its reputation for ritual healing and exorcism of evil spirits attracts many pilgrims from all over India.
It is the only temple in India which is specifically known for healing people under the influence of black magic or evil spirits.
By worshiping Hanuman on a Tuesday or Saturday and writing Shri Ram's name on the leaves of a fig tree, devotees believe that all their sorrows will be removed. Devotees further believe that by offering jasmine oil on a Tuesday or Saturday, all their wishes will be granted.
My only regret was arriving on a Saturday at this 1,000 year old temple and not being able to see inside.
The rest of the trip to Jaipur was uneventful. As always, I stopped to take far too many photos and videos of this wonderful country. It was late afternoon when I arrived at my hotel in Jaipur. I booked a taxi for the early hours of the next morning, and after eating a quick dinner, I retired for the night.
The taxi was waiting when I came out of the hotel at 6am the next morning. This would take me to the small town of Amber which is about 8 miles from the city of Jaipur.
Amber is located in an exotic area that houses several grand palaces that reflect the glorious past of Rajput culture. The grandest of these is Amber Fort, also known as Amber Palace (sometimes spelled "Amer").
It was constructed of red sandstone and marble, and is both exquisitely charming and elegantly beautiful. The palace reflects elements of Hindu and Muslim architecture.
In my years of traveling around the world, I have had the opportunity to visit many of the most famous palaces that belonged to once powerful rulers. Some were crowded with thousands of people but in others I was almost alone as I walked the long hallways.
These places ranged from extremely beautiful to obviously ugly. As far as I'm concerned, the Amber Palace would definitely rank at the top of the 'magnificent' group.
The city of Amber, as well as Amber Palace itself, was originally built by the Meenas in the late 16th century during the reign of Raja Man Singh I. Set in a picturesque setting, the palace stands on a hill overlooking Lake Maota – a man-made lake which is its main source of water.
Tourists flock to snap photos that include the near-perfect reflection of the palace in the waters of this small lake.
Amber's Palace is known for its intricate artistic elements and grand ramparts, as well as its many gates and cobblestone pathways. Yes, there are many other palaces around the world. But they are almost all variations on certain recurring themes: immense, extravagant, elegant.
To a layman like me, it often seems like palace designers have taken pieces of past experiences and rearranged them in different ways to create new but familiar architecture.
India, on the other hand, has not only broken with these norms, but has found a way to go beyond the confines of traditional and historical palace designs to create a unique beauty that defies description.
In my opinion, there is simply no other palace in the world that can truly compare to Amber's Palace.
To enter Amber's Palace, visitors must either climb the hill or ride an elephant. I had chosen the latter mode of transport, and because I did, I was advised to leave my hotel very early as this mode of travel to the gate is extremely popular. I was glad that at this early hour the queue wasn't long at all – I was number 20 in the queue.
There are less than 100 elephants carrying tourists to the palace. The journey can take up to 30 minutes as these majestic creatures are anything but fast. The guide told me that the elephants carry up to 900 visitors per day, but there is a strict limit to the total number of trips each elephant can make per day.
This maximum is closely monitored, he said, to guard against the possibility of overworking the elephants.
Dawn had fully arrived when I climbed the few steps to the top of a loading platform. The trainers maneuvered the huge, majestic animal to the wooden structure I was standing on. He literally shivered as the elephant's huge body slammed into him.
Two young men stabilized me as I sat in a large "saddle" strapped to the top of the elephant. This craft was surrounded by rails that would ensure that I would stay safely "on board" while the animal carried me up the hill. In front of me was a young man who served as a sort of "conductor" for this short but amazing journey that would lead me to the massive gates of Amber's Palace.
Once through the main gate, the guide pointed out several steps to the right that led to a small temple where sacrifices were once offered. He told me that according to an ancient legend, human heads were once sacrificed here before the gods were persuaded to accept goats. I didn't know if I should believe it or not.
Amber's Palace consists of a series of four courtyards that contain various palaces, halls and gardens. Near its entrance is the main courtyard, known as Jaleb Chowk. It is here that the king's soldiers paraded before their sovereign. The Sun Gate and the Moon Gate open into this large courtyard.
There is a staircase from the first courtyard that leads to the second. It includes a beautiful public room. It was here that the Maharaja held meetings with people from his court, ambassadors and other royal guests.
There are 27 evenly distributed columns resting on a raised platform. Each is crowned with an elephant-shaped carving near its top.
The third courtyard is accessed through a large ornate doorway with many levels painted like a mosaic. This intricate painting was made by artists who came from Persia.
This gate, which is further adorned with multiple carvings, opens into the area that contains the private quarters of the Maharaja, his family, and various attendants. There are two buildings in this courtyard, one opposite the other. They are separated by a beautiful landscaped garden in the typical Mughal manner.
The building on the left side is called the Hall of Victory. It is beautifully accented with glass inlaid panels and multi-mirror ceilings. These mirrors are designed in such a way that the flickering light from the candles below is softly reflected downwards. The other building is known as the "Palace of Pleasures". This is where the king "relaxed" with his ladies.
The fourth courtyard is where the royal women of the palace lived. Sometimes known as the "Royal Zenana", it consisted of numerous rooms in which the kings' concubines resided. There is also a hall where private audiences with the Maharajas were held. This room is richly decorated with alabaster reliefs and floral glass inlays.
Amber's Palace, along with the Taj Mahal, are the two most spectacular buildings I have ever seen. But know this if you are ever planning a visit to India. It's not an easy place to travel.
The hordes of people, streets, traffic, and public transportation are stretched beyond what anyone living in Manhattan or Los Angeles could even imagine. And then, at every turn, extravagant wealth is juxtaposed with abject, almost unfathomable poverty.
Rampant overcrowding only exacerbated already unmanageable logistical problems; however, progress is being made with the aim of bringing India into the 21st century without sacrificing the uniqueness of its timeless historical treasures. For my part, I fervently hope that these noble objectives can one day be achieved.
Watson E. Mills has traveled to 176 of the 193 member countries of the United Nations. He is a long-time member of the Travelers Century Club and has so far visited 274 of the 318 countries and regions listed by this club.