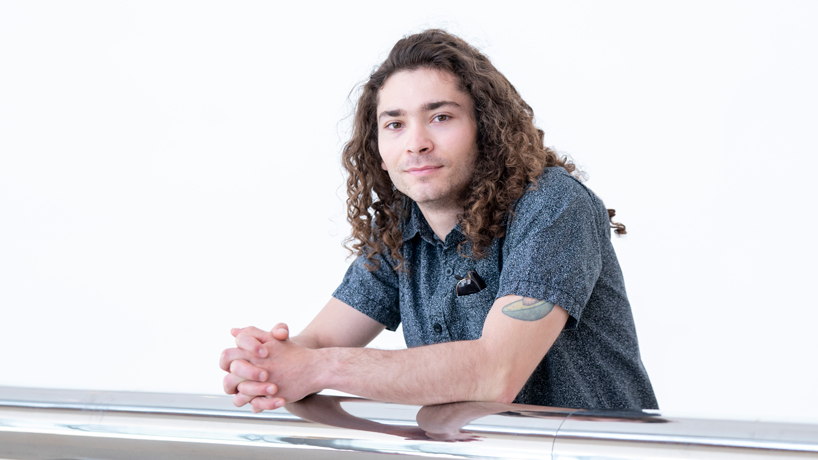 Psychology graduate Kam Moss selected for Japan exchange and teaching program – UMSL Daily
While attending Lewis and Clark Community College, Kam Moss assumed he would transfer to a four-year college to pursue a degree in computer science or cybersecurity.
However, after registering for University of Missouri-St. Louis, Moss found that IT hadn't captured his interest. His "General Psychology" course did, however. He was also delighted to learn that UMSL is home to the first Japanese language program in the area – a language he started learning himself a year before enrolling.
In May, Moss graduated from UMSL with a bachelor's degree in psychologyand in July he will travel abroad to participate in the prestigious Exchange and education program in Japan.
The program accepts between 2,000 and 3,000 Americans each year. During her one-year assignment, which can be extended, Moss will assist a Japanese language teacher with foreign language lessons and serve as a cultural ambassador to promote the JET program's goal of cooperation and international exchange.
Fluency in Japanese is not a requirement for the program, but UMSL's Japanese program has an excellent track record of preparing students for the effort. Participants work in private and public schools across Japan, but Moss is still awaiting his assignment.
"It still doesn't feel real," he said. "It probably won't feel real until I'm there."
Moss' journey to Japan began on the Illinois side of the St. Louis metro area. After spending two years at Lewis and Clarkhe considered a few southern Illinois universities, but his friends' experiences led him to broaden his search.
He thought UMSL sounded more interesting and offered an opportunity to see a different part of the region. The affordability of the university was also attractive.
"You can actually afford to go to school here even if you don't have scholarships," he said.
The concrete nature of math and science has always appealed to Moss, and he considers himself scientifically minded. Yet something was missing from the computer. On the other hand, psychology proved to be engaging, while fulfilling his interest in science.
"I really like that you're trying to apply the scientific method, the same one you use for all other disciplines, to people, which seems really important," Moss said. "It seems really important to understand how people work and how to predict their behavior."
The College of Arts and SciencesThe foreign language requirement led Moss to the Japanese program. Like many others interested in the language, Moss had taught it on his own for about a year before coming to UMSL.
A non-Western art class at Lewis and Clark piqued her interest in Japanese culture, particularly the country's history and the weight placed on master craftsmanship. But it was a YouTube video – an interview with a man on the street – that inspired him to start learning Japanese. It was unlike any language he had been exposed to before.
It was a riddle Moss wanted to solve.
"I started to inquire," he said. "I started wondering how hard it would be to learn Japanese – pretty hard – and I was like, 'Okay, I'll do it then.' That was it. Then I kept doing it every day.
Moss said talking with his classmates helped him express himself better and the program gave him tips on the intricacies of the language that would have been difficult to grasp on his own.
"The UMSL program has been very good," he said. "I learned so many things that I never thought I would learn on my own, things that I probably never would have discovered. Japanese is particularly complicated with levels of formality. It probably would have always been a mystery if I had never taken a course and studied it.
He is proud of the progress he has made, noting that he can now watch a Japanese report or show on Netflix and understand most of it. But there were times along the way where he doubted himself and whether he was making any progress.
"With each point, you take one step closer to that," Moss said. "It just doesn't feel like it. It just takes forever, and it's a hassle. So when you step back and look at it, you're like, 'Whoa, I really managed to get somewhere.' It's pretty cool. It's very good, it's very rewarding.
The JET program also served as a goal to achieve. Moss learned it when he started learning the language and has been looking forward to joining for about three years. He leaves for Japan on July 23 and should soon learn his mission.
Moss hopes to be able to serve a more rural area. The bustle of a city can be exciting, but he thinks it can also be a bit impersonal. The pace of life and busy schedules can leave little time to connect with neighbors and strangers, which is why he would prefer to be assigned to a location away from Japan's famous metropolises.
"I'd rather be somewhere where I see the same people every day and build a community around me — that kind of thing," he said.
JET participants can extend their assignment for up to five years, but Moss expects to stay for three years. This will give him enough time to improve his fluency and plan his next steps upon his return – possibly to pursue graduate studies in psychology.
"I hope when I return my Japanese will be at the same level as my English," he said, joking that returning to the United States would be an adjustment. "It could also mean that my English is deteriorating."
Short URL: https://blogs.umsl.edu/news/?p=93939