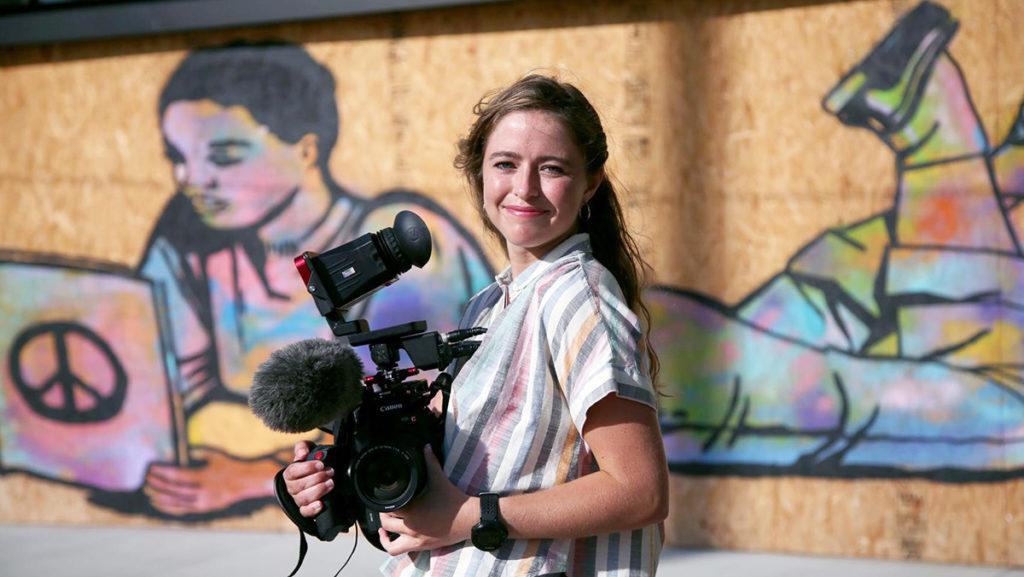 Q&A: Alum receives scholarship for exchange program in Germany
[ad_1]
McKinleigh Lair '19 is one of 75 Americans selected to study and work in Germany under the Congress-Bundestag Youth Exchange (CBYX) program for young professionals. CBYX is a joint program of the US Congress and the German Bundestag. Participants in the program study at German universities and complete internships in the professional field of film festival or documentary production. Participants are placed with host families during their stay in Germany.
Collaborative writer Jadyn Davis spoke to Lair via email about his time in Germany with CYBX and how obstacles like the COVID-19 pandemic brought him closer to his community.
This interview has been edited for length and clarity.
Jadyn Davis: How has COVID affected your fellowship with the program and what have you learned as a result?
McKinleigh Hideout: I think COVID has forced many of us to slow down and reassess our priorities. I have always known how much I enjoy traveling, but I have also come to fully appreciate the community. Following. I think there is a lot of value in being fully present in the community you live in, wherever it is. While I'm here, I want to focus my energy on seeing as much of this beautiful country as possible while forming meaningful friendships with my host family and other locals. I consider this to be equally important for any career development.
JD: What inspired you to be part of the program?
ML: I have always been impressed with the diversity of experiences in the United States and around the world. This curiosity is one of the factors that led me to pursue a career in documentary storytelling. I think this is also the reason why I spent so much time abroad as an undergraduate student. While at IC, I made a film for Park Productions in Guatemala, took a documentary course one summer in Seoul, spent a semester at the IC London Center, and also studied a semester at Jönköping, Sweden. But despite having studied a few languages ​​along the way, I never became very comfortable understanding or expressing myself in a foreign language. At first I felt torn as to whether I should accept this scholarship, as over the past two years I had gained a lot of momentum in my career as a freelance documentary director of photography. But this scholarship gave me a mix of opportunities that I struggled to pass up – the chance to work towards a language learning goal, see more of the world, and make new friendships – all the while working on my job.
JD: What was your life experience in Germany?
ML: I have been living in Cologne since the beginning of August, taking an intensive language course and living with a host mother who makes a living as a tennis teacher. She introduced me to local journalists and documentary makers that she knows from her club. In my free time, I was able to hit tennis balls with them while learning about the German documentary industry. Tennis has been a big part of my life for a while and it has been rewarding to use it as a small window into my industry and this community.
[ad_2]