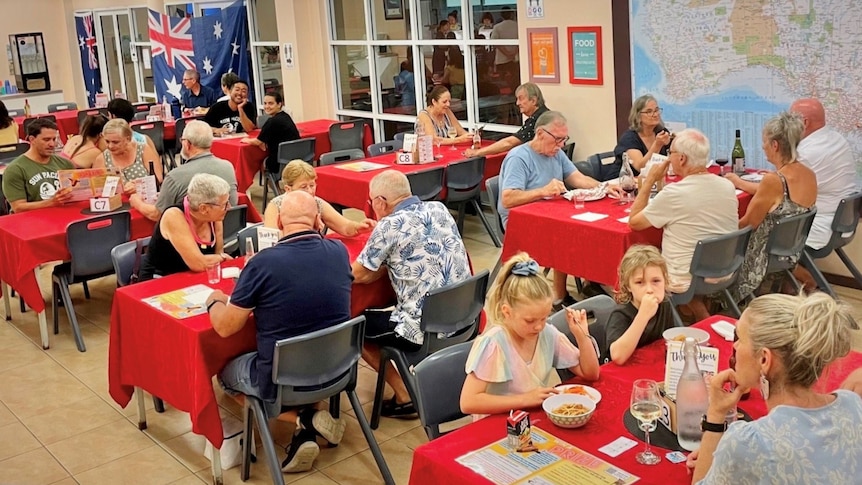 Sun Pacific College near Cairns turns to catering to continue paying staff during COVID lockdown
[ad_1]
A business in far north Queensland facing shutdown due to COVID has found unique ways to keep the doors open.
Sun Pacific College (SPC) at Kewarra Beach near Cairns, used to teach and welcome English language students from around the world.
After the borders closed in 2020, management looked for various ways to keep doors open and staff employed.
SPC director Braden Smith said that before covid, the college had between 400 and 600 students studying on campus.
"We are now down to around six international students who are still studying with us," he said.
"As the cafeteria was already serving meals to students, we decided to open the kitchen Monday through Friday to the general public. It's all-you-can-eat from $ 12.99."
Mr Smith said the start had been slow, but the numbers started to rise.
"Our first night we had one person, but last week we had over 130 people.
"What's great is the amount of community support we've received, people know we struggled and now they're excited about what we've done."
SPC is not a school with only classrooms, it also has on-site accommodation, a swimming pool, and tennis and basketball courts.
Although the accommodation is dormitory style with four beds per room, it has seen the SPC transform into short term accommodation during the current housing crisis in Queensland.
"At the moment we have over 200 free beds, and we wanted to see if we could resolve the rental crisis, so we opened up our rooms for bridging accommodation for the general public," he said.
"It was a great success. We have had families who have moved to Cairns and they have had issues with settling in or finding a rental.
"Recently a family of four from Melbourne stayed with us for four weeks while their house was ready.
"We also had people who stayed with us, while they waited for the borders to reopen so that they could return home.
The school also has another reason to celebrate with the pregnancy of the school mascot, Jill the Goat.
"We hope a few children will join us in the coming weeks," Smith said.
As SPC has turned to food and accommodation for locals, recent news that international travel may soon be on the agenda is welcome.
"We have had [student] reservations since March of last year. Their bags are done and they are ready to come when the time is right, "he said.
"We also received a lot of bookings from South America.
"We really hope Queensland opens its borders. The sooner they open, the sooner we can get back to normal."
Loading form …
[ad_2]