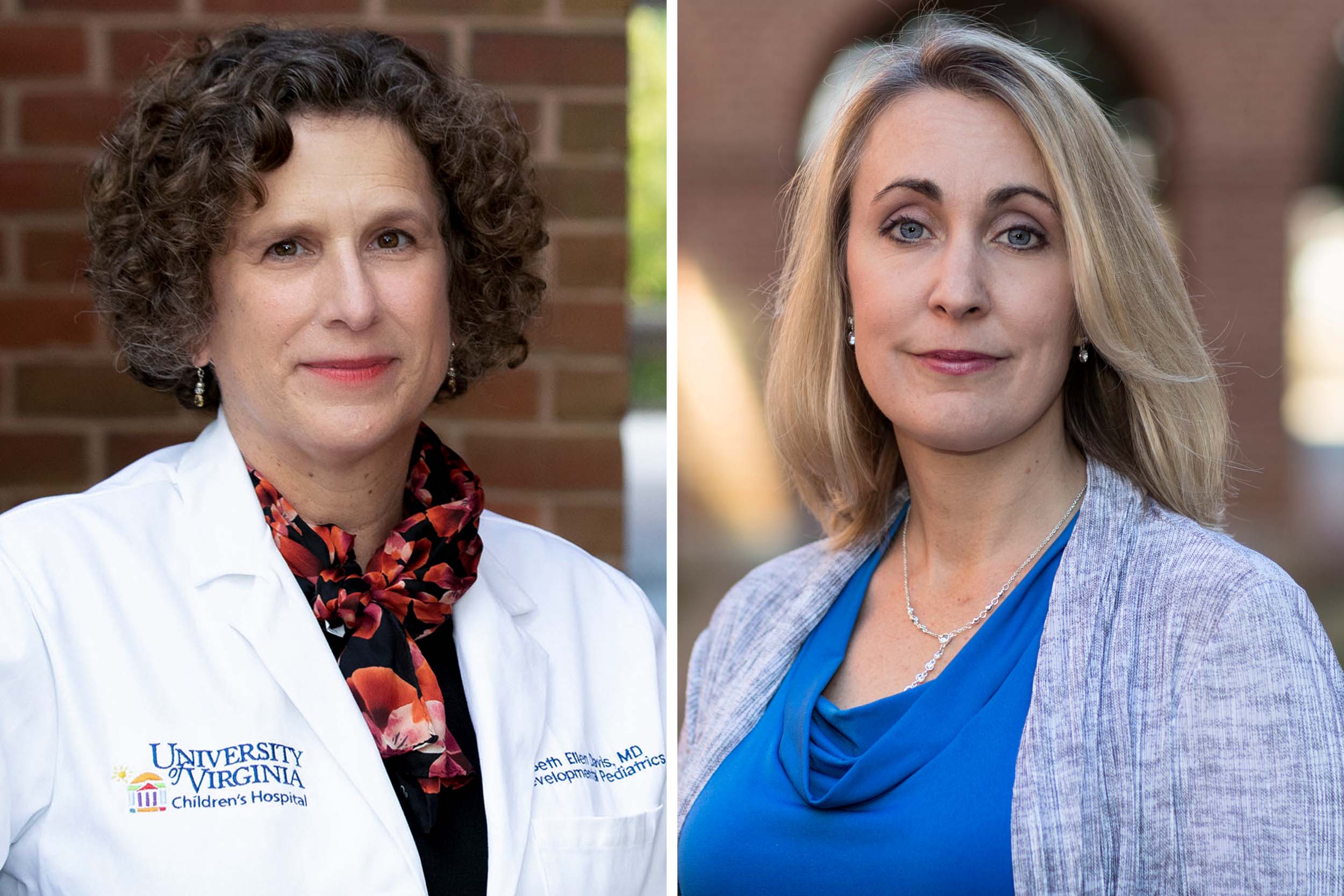 UVA launches interdisciplinary program to improve care for autism and other disabilities
[ad_1]
University of Virginia professors Micah Mazurek and Dr. Beth Ellen Davis have dedicated their careers to improving the health and well-being of children with disabilities. Davis and Mazurek's long-standing commitment to this work is, in part, a consequence of their role as fellows and ultimately leaders of the National Leadership Training Program in Neurodevelopment and Related Disabilities, or LEND.
For Mazurek, a professor at the UVA School of Education and Human Development and director of the Supporting Transformative Autism Research initiative, working directly with children with disabilities and their families as a doctoral student in clinical psychology has shaped the course of her professional life.
"Training as a LEND Fellow was an incredibly powerful experience for me at the start of my professional career, gave me hands-on experience and opened my eyes to the joys and challenges of everyday life for children with disabilities. and their families, "says Mazurek. "These experiences have changed the trajectory of my career.
Davis's career as a developmental and behavioral pediatrician and UVA medical school professor was shaped by his desire to see all children lead meaningful and happy lives.
"Children with disabilities often need special families and a 'village' to achieve this goal," Davis said. "On a daily basis, I have the privilege of being part of the circle of support that families need to offer their disabled child the same opportunities for fun, friendship, camaraderie, family, function and future as any other child. "
Now Davis and Mazurek are teaming up to co-lead one of the country's newest LEND programs. The Blue Ridge LEND, created with a $ 2.2 million grant from the Health Resources and Services Administration of the United States Department of Health and Human Services, is one of 60 federally funded interdisciplinary training programs across the country which aims to improve care systems for children. with autism and other developmental disorders.
Mazurek and Davis will be joined by their colleagues Erica Rouch and Rose Nevill, both of whom are Assistant Research Professors in Education and were also LEND Fellows during their graduate studies. Rouch will be the director of training for the Blue Ridge LEND and Nevill will be the lead assessor. Interdisciplinary faculty from the AVU School of Education and Human Development, AVU School of Medicine, and Mary Baldwin University will also participate in the program.
The Blue Ridge LEND will offer a wide range of training opportunities, ranging from short-term clinical experiences and lectures to a full one-year program for a selected group of long-term trainees. These Blue Ridge LEND Fellows will receive over 300 hours of interdisciplinary leadership training focused on evidence-based, family-centered and culturally competent care for people with disabilities. Located in the Blue Ridge Mountains, the new program will place special emphasis on meeting the needs of families in rural and Appalachian communities in Virginia and northern North Carolina, including key partnerships with faculty and interns from UVA Wise. The program will provide interdisciplinary postgraduate training to future professionals, as well as continuing education and technical assistance to practicing professionals and agencies in the region.
The program welcomed the first cohort of Blue Ridge LEND fellows in August, and their experiences will range from interactive skill-building seminars to spending time with children with disabilities and their families in the community. They will also receive hands-on training in interdisciplinary clinics and gain hands-on experience in understanding community systems, disability policy and advocacy. Ultimately, these opportunities will prepare Fellows to become future leaders in improving services and supports for people with autism and other developmental disabilities.
Interdisciplinary care
Each cohort of Blue Ridge LEND Fellows will include graduate interns from a wide range of professional disciplines and people with lived experience as family members or people with disabilities.
"Children with developmental disabilities have complex health and educational needs that cannot be met through a single discipline," said Mazurek. "Instead, they need a team of professionals who can work with families to provide comprehensive, coordinated and holistic care and support."
The Blue Ridge LEND program aims to address this need by training the workforce of future professionals who can work together to improve systems of care. Through practical experience of teamwork, LEND trainees gain a better appreciation of the knowledge and perspectives of professionals from other disciplines and of people with disabilities and families themselves.
A key element of the LEND program also involves direct experience in clinics providing evidence-based, interdisciplinary, family-centered, and culturally competent care for children with disabilities. For example, Blue Ridge LEND Fellows will spend part of their experience in the Collaborative Autism Resource and Assessment Clinic at the Sheila C. Johnson Center at UVA Education School. This clinic was established as part of the Supporting Transformative Autism Research initiative to provide diagnostic assessment and treatment planning for children with or at risk of autism. The clinic currently includes faculty and students from the UVA Neurodevelopmental and Behavioral Pediatrics, Clinical and School Psychology, and Speech-Language Pathology programs.
A network of partners
Partnerships are the basis of Blue Ridge LEND. The program represents a collaboration between the AVU School of Education and Human Development, the AVU School of Medicine and the Murphy Deming College of Health Sciences at Mary Baldwin University. The program will bring together faculty and interns from various graduate programs from both universities, including Mary Baldwin's Occupational and Physical Therapy programs and UVA programs in medicine, nursing, psychology, special education, and speech-language pathology. It is important to note that professors and interns in family and self-advocacy disciplines will bring critical perspectives and lived experience.
"This unique federal training grant connects the tremendous expertise, collaboration and passion of faculty across the grounds of AVU, other institutions, community organizations and even across state borders to strengthen capabilities of the next generation of disability leaders to improve the lives of people with neurodevelopmental disorders. and related disabilities, "Davis said.
The program will also offer a menu of learning experiences in the Blue Ridge area to foster a better understanding of the needs of families in rural and Appalachian communities.
As former LEND fellows who now use their expertise to lead the Blue Ridge program, Mazurek, Davis, Rouch and Nevill are powerful examples of the success of this training model in preparing future leaders. Blue Ridge LEND aims to continue this legacy by launching a new generation of professionals and advocates who will lead the way in improving the lives of people with disabilities and their families.
[ad_2]