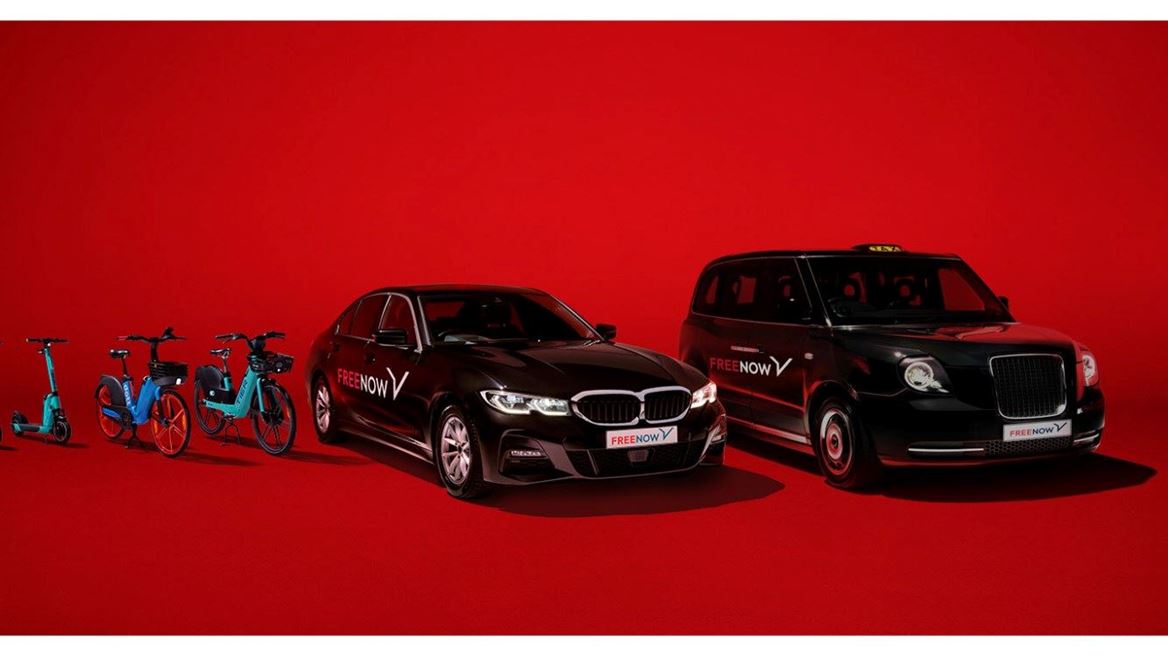 "We have fully recovered from the pandemic" – Moments of mobility with FREE NOW UK GM Mariusz Zabrocki
The awesome mobility app FREE NOW is on a mission to make getting around cities around the world easier, whether you're traveling by public transport, taxi or electric scooter.
Last month, Transport for London renewed the company's license to operate in the UK capital, an important sign of confidence for any mobility company in the country. Auto Futures spoke to Mariusz Zabrocki, Managing Director of FREE NOW UK, to find out more about the company's expansion across the country and the importance of its London operations.
What is your background and how did you come to mobility?
I worked in investment banking, then in management consulting, e-commerce and the fintech industry. At the end of 2018, Chaffeur Privé, at the time N°2 in VTC in France, approached me to launch the British market. We changed our name to Kapten just before launch in May 2019, and in 2020 we merged with FREE NOW, the Mobility Super App with the largest choice of vehicles for consumers across Europe.
How fast is FREE NOW growing in the UK?
We have experienced very rapid growth in recent months across all of our fleets. We have fully recovered from the pandemic and recently reached unprecedented levels. And we expect that growth to continue.
At a more granular level, we have strengthened our position as the leader of black cabs in London with 81% of all next-gen black cab drivers already registered on our platform. Our ride-hailing business is also growing very rapidly in London and we continue to launch new types of fleets. We now have the largest e-scooter supply in London, and we're about to have the largest e-bike supply as well. Outside of London, our operations in Edinburgh have recently soared, quadrupling in scale in the past two months alone.
What is the significance of TfL's renewal of the operating license in London?
TfL's renewal of our operating license in London is very important to us. This license is one of the most complex to obtain worldwide, with several other manufacturers
heavyweights are struggling to renew it in previous years. We currently hold the longest PHV license of London's four largest operators and are committed to investing and growing further in London and the wider UK market in the years to come.
How does FREE NOW support drivers?
FREE NOW aims to do everything possible to support our drivers because their happiness is integral to the success of our business. We offer incentives such as referral bonuses,
re-engagement offers and daily and weekly quests and bonuses. In addition to financial support, we organize events such as football matches to help establish a sense of community among our drivers.
Describe your partnership with HumanForest?
The announcement of the partnership came as FREE NOW saw record e-bike usage in May, with numbers 35 times higher than at the start of the year. This increase demonstrated a clear appetite for alternative and sustainable modes of transport in the capital. The integration of HumanForest, in addition to existing partnerships with Dott and TIER, means FREE NOW offers London's largest multi-mobility fleet of over 3,000 dockless e-bikes bookable in a single app.
Not only does the partnership allow FREE NOW to meet demand, but it also aligns with our sustainability goal. In 2020, FREE NOW became the first mobility platform to become Net Zero in all European markets. HumanForest is aligned with their ambitions to create lasting change by ensuring that all of their e-bikes run on zero emissions and 100% renewable energy. By making a record 150,000 trips to London in May alone, HumanForest avoided the emission of 25 tonnes of CO2 into the atmosphere. Together, we can achieve our aligned visions of creating active, safe and green cities, bridging the gap between affordability and sustainability.
How will FREE NOW achieve its commitment to only have 100% zero-emissions capable vehicles on the app in the UK by 2025?
We have several key phases to achieve our sustainability ambitions of being the first mobility platform to become Net Zero in all key European markets by 2030 – starting with investment. Between 2021 and 2025 we intend to invest £20m to support drivers. This will help phase out vehicles from our app under increasingly ambitious emission and age criteria, ahead of any regulatory requirements. We understand the role we have to play in the transition to electric vehicles, so all journeys through our app have been climate neutral since 2020 and we're proud to be the only ones
ride-sharing app to provide electric vehicle (EV) booking options for PHVs and black cabs, to make it easy for passengers to choose more sustainable vehicles every time they travel. During the same period, additional funds are being invested in passenger marketing and discounts, aimed at promoting our fleet of electric vehicles.
Through partnerships with eScooter and eBike operators, as detailed above, we offer micro mobility options to our users. We choose partners who are the most responsible players in the industry, those who use technology to reduce waste, increase longevity and improve the security of their offerings. We will continue to work in partnership with local authorities, regulators and government to improve and introduce EV infrastructure.
What will urban mobility look like by 2030?
The future of transport is a fascinating topic that never ceases to inspire. At FREE NOW, we implement many of the beginnings of these technologies. Our platform also brings together disparate demand and supply to reduce emissions, reduce dependence on private cars and increase the efficiency of urban mobility. Space elevators are not yet available, but watch this space. A whopping 63% of commuters said they actively consider the environmental impact of their journey, with a further 31% opting for the most sustainable route.
We recently conducted research into what the future of commuting will look like in the coming years. According to a study of 2,000 adults, 19% of respondents predicted the use of a high-speed train, followed by body chip access (15%) and flying cars or pods (14% ). It is exciting to examine the ways in which technology could develop in the years to come to create a more efficient and sustainable urban mobility scene.