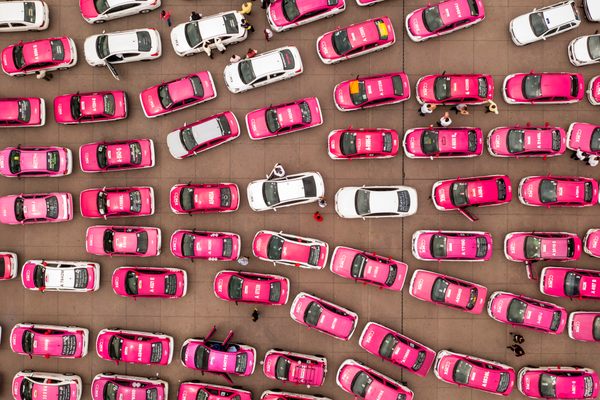 Xalapa's taxi drivers are hard at work in one of the most dangerous cars ever made
Roberto Villanueva peeks into rear-view mirror of his taxi as it turns down a side street towards Macuiltépetl, an ecological reserve on a mountain in the center of Xalapa. He's been driving a taxi here in the capital of the state of Veracruz, Mexico, for 35 years, and has most of the routes through the city etched in his memory. "Almost muscle memory," he says.
That's no small feat in Xalapa, a sprawling, hilly city of 750,000 people. The streets of Xalapa evolved centuries before automobiles and are full of sharp turns, unpredictable name changes and nine-way intersections. Taxi drivers are expert guides through this urban maze, providing a service that connects private and public transport. Passing a hospital, Villanueva says he regularly takes people there; in Xalapa, hailing a taxi is often much faster than calling an ambulance.
Taxi drivers are vital to the city's residents, but the challenges of the job can be as daunting as navigating its convoluted streets. The economy, the ongoing pandemic and the whims of local politicians have presented a series of hurdles for taxi drivers to overcome, all behind the wheel of a Nissan Tsuru, Mexico's de facto taxi and one of most dangerous cars ever made.
Villanueva's Tsuru idles at the entrance to Macuiltépetl. His passenger passes coins through an opening in a sheet of plastic – a makeshift virus barrier – and he counts them before nodding quickly over his shoulder. Then he follows another Tsuru taxi around the corner and out of sight, already looking for the next fare.
Hundreds of other taxis congregate around a roundabout on the southwest side of Xalapa. The location, known as Los Sauces, is one of the region's major transit hubs. The circle and adjacent streets are lined with bus stops, small shops and food stalls, allowing drivers to grab a quick bite of picaditas-Veracruz's beloved and sassy tortillas-waiting for fares. They'll take passengers wherever they need to go, whether it's somewhere else in town, a remote mountain town, or an entirely different state.
The growing propensity to make longer journeys reflects the evolution of work. Xalapa's veteran drivers remember when the profession could support a family and retire a driver; the limited number of taxi licenses available meant that a driver leaving the profession could earn a large sum by selling his concession to the next generation. But the good old days of driving a taxi are over. They ended with the 2004 election of Fidel Herrera Beltrán as center-right governor affiliated with the Partido Revolucionario Institucional (PRI) of Veracruz, says Lorena López, a sociologist working for the Mexican government who has studied extensively taxi driving in Veracruz.
The Beltrán administration essentially privatized the taxi licensing process by allowing various companies to sell simplified taxi licenses to the public at a lower cost than an official government concession, a move the administration says , would create more jobs and stimulate the economy. The result was an oversaturation of the market. According to a government report, the total number of taxis in the state of Veracruz has increased from 17,000 to 75,000 in 20 years. That number has only increased since the report was published, thanks to factors such as cheaper concession prices in response to competition from Uber and other app-based ride services, López says. Today, Xalapa and surrounding towns have as many taxis as New York, but less than a tenth of the population.
Much of the little money taxi drivers earn is eaten up by day-to-day expenses. Fares are set by the regional government but are not updated frequently; most fares are under 100 pesos, or about $5. Gas prices continue to climb above $4 a gallon, and most taxi drivers belong to unions, or the unions, which charge $10 to $15 a day for the use of a vehicle, in addition to dues. Given the large number of drivers criss-crossing the city, "sometimes it costs less to stay at home and not work," explains a driver who goes by the name of Arturo.
For most drivers, not working is not an option and they will be on the road 16 hours a day, seven days a week. Eating on the run, not going to the bathroom and barely sleeping means many drivers develop high blood pressure and heart and kidney problems, López says. Other occupational risks include theft and hijacking, standard risks for taxi drivers around the world. In addition to all of these challenges, the Tsuru presents its own unique danger.
The Tsuru ("crane" in Japanese) is a small four-door sedan introduced in Mexico in 1984 and essentially unchanged since 1991. It was designed without crumple zone protection, airbags, anti-lock brakes or stability control – a deliberate choice in an apparent attempt to keep costs low, thereby allowing a greater percentage of the population to have access to cars.
"Is Tsuru cheap?" Yes. Reliable? Yes. Safe? Absolutely not," says driver Oscar Ortega with a sinister laugh. He taps the dashboard of his Tsuru, in gratitude or prayer, as he speeds down a busy section of the highway that winds around Xalapa.
The model's reliability and ease of repair helped the Tsuru overtake the Volkswagen Beetle as the Mexican taxicab of choice in the mid-1990s. Over 2.4 million Tsurus were sold during its lifetime.
In 2016, a crash test video showed a 2015 Tsuru colliding with a 2016 Nissan Versa. The Tsuru imploded so violently that the viewer feels sorry for the crash test dummy inside. The Latin New Car Assessment Program (LNCAP), the consumer advocacy group that conducted the crash, awarded the Tsuru a zero-star safety rating and provided data showing that more than 4,100 people have died in the Tsuru accidents in Mexico between 2012 and 2017.
The auto industry's importance to Mexico's economy has always made lawmakers ambivalent about demanding higher safety standards, but LNCAP's Alejandro Furas, general secretary of its New Car Assessment Program, believes that the startling crash test footage helped move the conversation forward. On the same day that LNCAP announced it would be performing crash tests with the Tsuru, Nissan said the notorious model would be retired by May 2017. Furas says this is long overdue, especially given the number of taxis on the streets and highways of Mexico which are Tsurus.
"The drivers are under pressure because they have to bring food to their families," Furas explains. "Driving a taxi is a job – having a safe [place to work] should be an important part of it.
Around the same time, the state of Veracruz decreed that no taxi could be older than 10 years. The Nissan Tsuru, last built in 2017, will technically be illegal to use as a taxi in 2027.
The Tsuru's retirement signifies a new chapter in the long history of Xalapa taxi drivers. Hopefully the change will mean fewer drivers and passengers will be injured or killed. But upgrading to a safer vehicle will be a financial barrier for many, perhaps drawing people away from the profession, reducing the number of drivers and restoring the balance between supply and demand.
Xalapeño mechanic Mauro Hernández Rodríguez stands in Calle Lázaro Cárdenas, the street in front of his shop. He rates every car as he passes, including a few Nissan Marches and Chevy Sparks, which are already becoming the city's next generation of taxis. Hernández Rodríguez pokes fun at how expensive but unimpressive these models are. "The Tsuru is a workhorse," he says. "Other cars only work best when going downhill!"
Most of the vehicles passing by Hernández Rodríguez's shop are Tsurus, including half a dozen taxis. Typical of Xalapa taxis, most of them have a personal touch to make the driver's house on wheels feel more like, well, home.
Across town, drivers are adding festive lights, family photos or figurines of saints – a Tsuru has even been spotted with an imitation Batmobile steering wheel. Customization speaks to the drivers' fondness for the Tsuru and for the job itself. Villanueva and other drivers talk about the feeling of freedom that their profession brings, especially on days when the sun is shining, the windows rolled down and the prices stable. Tsuru taxis, like their drivers, aren't going anywhere anytime soon, except on their regular trips through town.