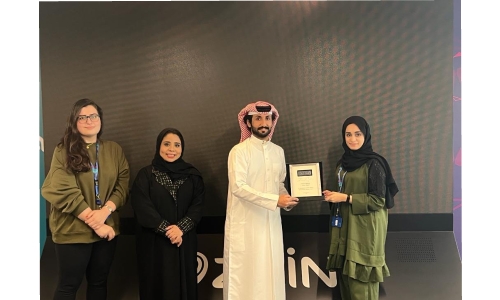 Zain Bahrain trains its employees in sign language | THE DAILY TRIBUNE
TDT | manama
The Daily Tribune – www.newsofbahrain.com
Zain Bahrain, a telecommunications industry innovator in Bahrain, conducted sign language training for his employees as part of his Diversity and Inclusion (D&I) initiatives to instill a diverse, equitable and inclusive culture At work.
As part of Zain Bahrain's D&I strategy, the training program aims to build employee capacity, make the customer experience more inclusive and welcoming, thereby making the Zain brand more accessible to everyone.
The training was provided by Abeer Saloom, founder of Ishara Training Corporation, considered the first hearing impaired trainer in the Gulf.
Zain Bahrain fosters a culture of inclusion and believes in a holistic framework to achieve the goals of inclusion and equal opportunity for all.
The course created awareness and awareness of sign language when dealing with people with disabilities.
The company has planned several sessions to equip Zain Bahrain employees with three levels of sign language starting with the basics to make them confident while conversing with hearing impaired people in the company.
Fatima Haider, Head of Sustainability and Inclusion at Zain Bahrain, said, "Zain Bahrain also aims to train 10% of its staff to be fluent in sign language for effective communication."
Abeer Saloom, Founder of Ishara Training Corporation, said, "Sign language training will make Zain Bahrain staff more confident when communicating with people with disabilities and demonstrates the company's commitment to inclusiveness.
The training has been designed around inclusivity, so that everyone feels like a member of the team and will provide a way to engage in productive and meaningful conversations with the hearing loss community.
Wala Ali, Learning and Development Specialist, Human Resources at Zain Bahrain, said: "By organizing the sign language training, we aim to develop awareness and sensitivity towards people with disabilities as well as foster a culture of respect towards the requirements of all our customers and employees, especially people with special needs, and making them feel safe and engaged in the work and business environment.